ASBIS Business and Strategy
The ASBIS Group established in 1990 is based in Cyprus and specialises in the distribution of IT components, blocks and peripherals with 33 warehouses in 26 countries. Its operations extend to Central-Eastern Europe, the Baltic States, the former Soviet Union, the Middle East and North Africa.
The Group has a centralised purchasing system controlled from its Cypriot headquarters buying from worldwide leading manufacturers of computer components, blocks and peripherals.
The Group supplies the vast geography that it covers through three master distribution centres located in Czech Republic, the UAE (Dubai) and China. Shipments are made to master distribution centres. These shipments are then split, enabling the Group to deliver a full range of products in-country, thus creating greater efficiency and lowering transport costs.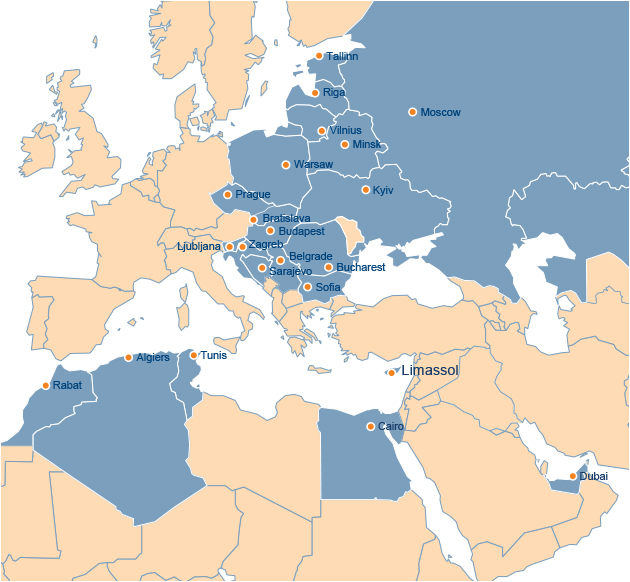 The ASBIS Group's strategy is to grow its business and increase its profitability, mainly by improving its operating efficiency in the distribution of IT components and by increasing sales of its private label products. The Group intends to achieve this by:
increasing sales and market share in the EMEA region;
expanding to new emerging markets;
developing its private label business;
continuing to focus on leveraging its size and distribution capacity to achieve better commercial terms and optimize its product mix; and
enhancing operating efficiency and automated processes, including its on-line sales channels.
Increasing sales and market share in the EMEA region.
As confirmed by independent market reports, computer penetration in the markets in which the Group operates, is still significantly lower than in more developed Western European markets. As a result, demand for computer products in these markets is growing rapidly and is expected to continue to grow at a high rate in the foreseeable future. The Group will continue to focus on increasing its revenue from and market share in these growing markets and believes that it is in an advantageous position to do so, due to its relationships with leading international suppliers, extended distribution network and strong local presence.
Expansion to new emerging markets.
In recent years, the Group has entered a number of new emerging IT markets in North Africa. Although revenues derived from these markets still represent a relatively low share of the Group's total revenues, this share is increasing, as these markets continue to grow and as the Group continues to expand to other emerging and growing markets including in Africa and Central Asia (in particular countries such as Libya, Kenya, as well as Moldova, Azerbaijan, Georgia and Armenia). The Group expects that its long experience of successfully competing in emerging, high-growth markets, combined with the geographic proximity of its headquarters to these markets, will help it strengthen its market position and increase its revenues.
Development of private label business.
The Group's private label (branded) product lines, Canyon and Prestigio, are manufactured by leading OEM producers in the Far East (i.e., Korea, Taiwan, and China), often based on designs developed by the Group, selected on the basis of their quality and potential for achieving high profit margins in the Group's markets. The Group markets and sells these products under its own brands, successfully competing with products of comparable quality marketed under international brands. The Group believes that increasing sales of private label products as part of its total revenues will have a positive impact on its overall profitability, as these products return a higher profit margin, compared to international suppliers' products distributed by the Group. As a result, the Group aims to continue expanding the range of its private label products and strengthening their promotion in its markets.
Continuing to focus on leveraging its size and distribution capacity to achieve better commercial terms and optimize its product mix.
The Group's local presence in a number of markets in which it operates and the size and breadth of its operations, combined with its centralized procurement system for negotiating with suppliers, help increase the Group's purchasing power and strengthen its ability to negotiate and achieve more beneficial terms in its distribution agreements, including achieving agreements with respect to the distribution of products offering higher profit margins.
Enhancing operating efficiency and automated processes, including its on-line sales channels.
The Group continues to focus on improving operating efficiency and enhancing its automated processes, with a view to reducing operating expenses and increasing its profit margins, mainly through enhancing its own on-line, end-to-end supply chain management system, which operates over its IT4Profit platform. This automated system covers a wide range of Group activities, from purchasing processes with key suppliers, to intercompany transactions, order processing and business data exchange with customers, as well as automated B2C (business-to-customer) connection with e-shops of resellers. More than half of the Group's revenues are derived from on-line transactions with customers, and the Group aims to increase this percentage.