Dubai (United Arab Emirates), October 24, 2011 – ASBISc Enterprises Plc., a leading distributor of IT products in emerging markets of Europe, the Middle East and Africa, has picked up AMD "Distributor of the Year in EMEA Fast Growing Markets" award.
The award reflected exceptional achievements over the year and recognized the development, service, marketing and logistics of AMD products distribution throughout ASBIS sales channels in EMEA region. "AMD Distributor of the Year" award was handed out during at GITEX'2011, one of the largest and most important ICT events around the globe held in Dubai, UAE.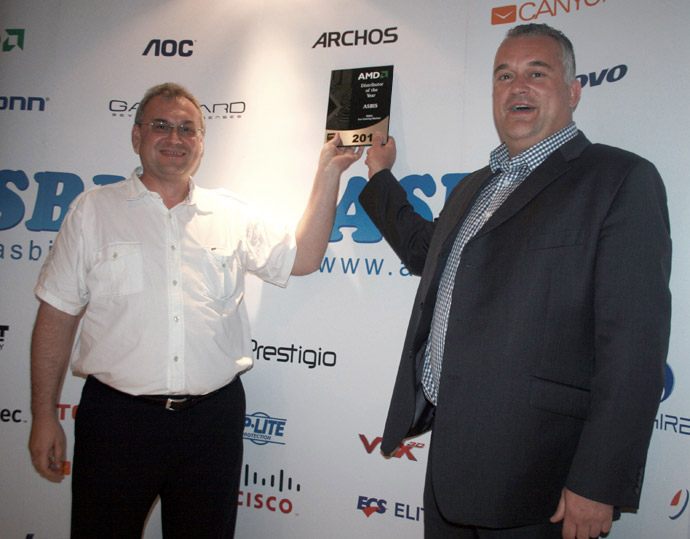 Serhei Kostevich (left), CEO and President of ASBISC Enterprises plc, picks up the award from Darren Grasby, AMD corporate vice president, Sales, EMEA.
About ASBIS
ASBISc Enterprises PLC (WSE: ASBIS) is based in Cyprus and specializes in the distribution of IT products from worldwide leading manufacturers such as Intel, AMD, Seagate, Western Digital, Samsung, Microsoft, Toshiba, Dell, Acer, Lenovo and Hitachi. The company has own subsidiaries in 26 countries, more than 1,200 employees and 32,000 active customers in over 70 countries worldwide, and its revenue reached US$ 1,43 billion in 2010. For more information visit the company's website at www.asbis.com.
About AMD
AMD (NYSE: AMD) is a semiconductor design innovator leading the next era of vivid digital experiences with its ground-breaking AMD Fusion Accelerated Processing Units (APUs). AMD's graphics and computing technologies power a variety of solutions including PCs, game consoles and the servers that drive the Internet and businesses. More information is available at www.amd.com.