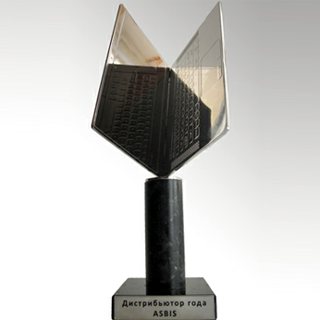 May 4 2012, Kyiv (Ukraine) – ASBIS Ukraine, a subsidiary of the ASBISC Enterprises PLC (WSE: ASBIS), has been presented with "Distributor of the Year 2011" award during "The 1st Annual Dell Awards" event held in Kyiv, Ukraine by Dell.
The event took place for the very first time in Arena club in Kyiv last week was designed to honor Dell's partners across Ukraine. The ceremony has attracted more than 100 participants from the leading IT distributors and retail partners.
"We are delighted to receive this precious accolade from Dell on Ukrainian market," said Ivan Kardash, Product Line Manager for Dell in ASBISC Enterprises plc.
"Without any doubts, this award is the recognition of the persistent efforts of our team in channel development, the excellence in sales and marketing and the commitment over the years in distribution business."
"The winners in each category of "The Annual Dell Awards" are our best partners in Ukrainian IT industry," said Alexey Kononskiy, Partner Account Manager Dell in Ukraine & Azerbaijan. "2011 was a productive year for Dell, and we are pleased that we have trusted partners. The ceremony was held for the first time, however we are certain that it will become a long-standing tradition."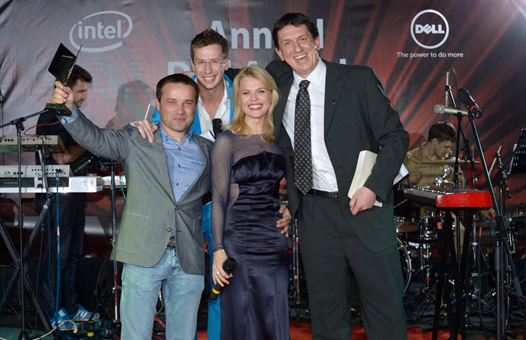 Vladimir Yurko, Product Line Sales Manager at ASBIS, picked up the award from Alexey Kononskiy,
DELL Partner Account Manager (UA, AZ), and David Spruyt, DELL Regional Director CEE, Ukraine and CIS.
About ASBIS
ASBISc Enterprises PLC (WSE: ASBIS) is based in Cyprus and specializes in the distribution of IT products from worldwide leading manufacturers such as Intel, AMD, Seagate, Samsung, Microsoft, Apple, Dell, Toshiba, Acer, Lenovo and Hitachi. The company has own subsidiaries in 29 countries, more than 1,240 employees and 26,000 active customers in over 85 countries worldwide, and its revenue reached US$ 1,48 billion in 2011. For more information visit the company's website at www.asbis.com.
About DELL
DELL Inc. is a multinational information technology corporation based in Round Rock, Texas, United States that develops, sells and supports computers and related products and services. For more than 26 years, Dell has empowered countries, communities, customers and people everywhere to use technology to realize their dreams. The company is one of the largest technological corporations in the world, employing more than 96,000 people worldwide. For more information visit the company's website at www.dell.com.