ASBISC Enterprises PLC (WSE: ASB), an expert in the distribution of IT products in EMEA emerging markets, has been announced "Seagate EMEA distributor of the FY2013" for bare HDD at the annual conference held by Seagate Technology in Portugal on September 18-20, 2013.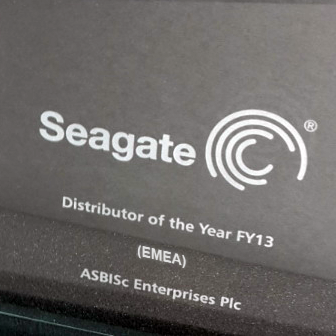 ASBIS receives "Seagate EMEA distributor of the FY2013"
The mutually beneficial cooperation of ASBIS and Seagate has started as early as in 1992; at that time the contract concluded between the companies was the first distribution contract for ASBIS. For the long-lasting partnership this award is not the first acknowledgement from Seagate Technology but of great significance and the appreciation of the effort of the entire ASBIS team.
"This award is to be shared with all members of the multinational ASBIS team," said MPLM Seagate at ASBIS Sanja Horylova. "During the period from Q3'12 to Q2'13 ASBIS group have shown the consistently linear sales position with strategic growth among CEE and MENA regions. The desktop share of Seagate business in the company was kept stable and even has been increased due to the geo coverage, while the significant gradual growth was registered in the mobile and server segments."
About ASBIS
ASBISC Enterprises PLC (WSE: ASB) is based in Cyprus and specializes in the distribution of IT products from worldwide leading manufacturers such as Intel, AMD, Seagate, Samsung, Microsoft, Apple, Dell, Toshiba, Acer, Lenovo and Hitachi. The company has own subsidiaries in 29 countries, more than 1,368 employees and 26,000 active customers in over 85 countries worldwide, and its revenue reached US$ 1.745 billion in 2012. For more information visit the company's website at www.asbis.com.