ASBIS Slovakia, a subsidiary of ASBISC Enterprises PLC (WSE: ASB), has earned 'Top Distributor FY 2013/2014' recognition at the Lenovo's annual business partner event held in the Salamandra Resort-Hodruša Hámre hotel on June 20, 2014.
The award was conferred on ASBIS Slovakia for the highest share of wallet and the utmost volume of Lenovo business on the local market throughout FY 2013/2014.
"The last year we reached the 60% growth in Lenovo sales to compare with 2012, the result which became possible due to the consolidated team effort making us the Lenovo Top distributor prizewinners for the second year running," commented Mr Samir Moussa, Lenovo PLM at ASBIS Slovakia, who proudly received the award statuette at the ceremony.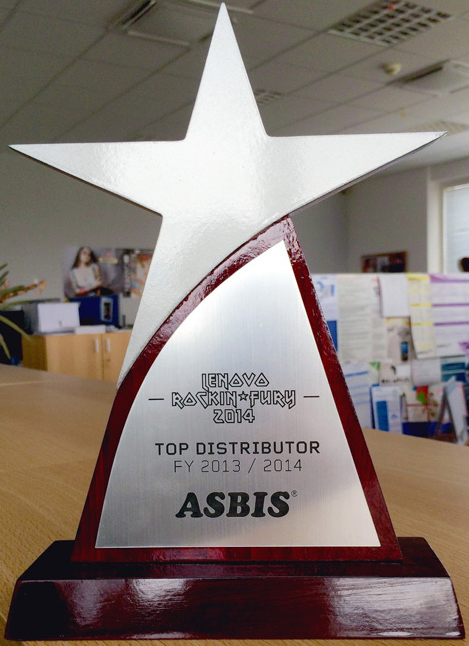 Lenovo's 'Rockin' Fury'-inspired business partner event was welcoming the regional business partners to conduct meetings, honor the heavy-hitters of Slovak ICT market, and celebrate the business achievements to the encouraging rock tunes at the grandeur of Salamandra Resort nature.

About ASBIS
ASBISc Enterprises PLC (WSE: ASB) is based in Cyprus and specializes in the distribution of Information and Communications Technology products and solutions from global suppliers including Samsung, Apple, Microsoft, Intel, AMD, Seagate, WD, Toshiba, Dell, Acer, Lenovo. The company has its own subsidiaries all over the region of EMEA, more than 1,700 employees and 33,000 active customers in over 90 countries around the globe, and its revenue reached US$ 1,920 billion in 2013. For more information visit the company's website at www.asbis.com.