ASBISC Enterprises PLC (WSE: ASB), an expert in the distribution of IT products in EMEA emerging markets, has been honoured by Intel Corporation in recognition of Intel-based smartphone and tablet engagement in 2013 all over the EMEA region at the Intel Channel Executive Conference in Rome, Italy on September 18, 2013.
The leadership position of ASBIS in the distribution of Intel-based mobile solutions brought this prestigious award from Intel Corporation. ASBIS successfully develops the market of smartphones and tablets and Intel-based in particular. The company' portfolio contains the wide range of tablet PCs based on Intel processor. Nevertheless the principal advancement in this segment was reached due to the supply of smartphones with Intel processor inside under own ASBIS trademark Prestigio.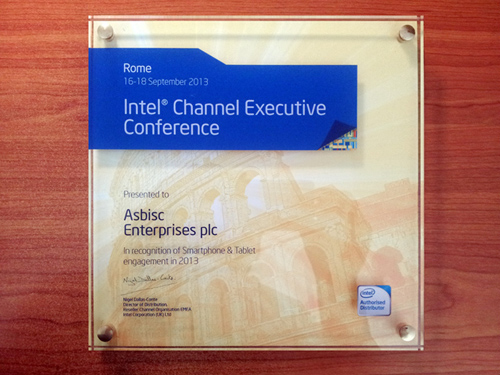 In April 2013 Intel Corporation and ASBIS agreed the global channel deal on the Intel architecture smartphones supplied by Prestigio. This cooperation resulted in the new Prestigio MultiPhone PAP5430 with Intel Atom processor inside which is available now to the ASBIS customers in all countries of the company' presence. This Prestigio smartphone delivers fast Web browsing, responsive apps, and effortless multitasking. Powered by the Intel Atom processor it allows effortlessly move between multiple applications on-the-go with up to 1.2 Ghz advanced power. Featuring an advanced 8MP HD camera MultiPhone PAP5430 lets capture images quickly – up to 8 photos a second and easily create and share HD-quality video. The fully integrated graphics engine gives the enhanced gaming experiences for rich 3D immersive reality and great responsiveness.
About ASBIS
ASBISC Enterprises PLC (WSE: ASB) is based in Cyprus and specializes in the distribution of IT products from worldwide leading manufacturers such as Intel, AMD, Seagate, Samsung, Microsoft, Apple, Dell, Toshiba, Acer, Lenovo and Hitachi. The company has own subsidiaries in 29 countries, more than 1,368 employees and 26,000 active customers in over 85 countries worldwide, and its revenue reached US$ 1,745 billion in 2012. For more information visit the company's website at www.asbis.com.