Belgrade (Serbia), June 23, 2011 – ASBISc Enterprises Plc., a leading distributor of IT products in emerging markets of Europe, the Middle East and Africa, has honored with "Regional Business Partner 2011" Award during the annual ceremony held at Continental hotel in Belgrade, Serbia.
The Regional Business Partner Award was established in 1995 with the aim of promoting the best companies and institutions from over 12 countries of SEE region regardless of the industry, size or type of ownership, establishing the setting for small and medium sized enterprises to compete with big businesses.
"We are delighted to be honored with this award, as it shows persistent efforts of our team, the realization of vision and of the commitment over the years in business", said Predrag Vrućinić, Country Manager at ASBIS Serbia. "Indeed, we owe this success to our partners and an outstanding cooperation with them, to the competences of our team and to our recognized flexibility."
The business excellence of ASBISc Enterprises Plc has been recognized and assessed by the business partners, organizers has stated during Award Ceremony. The company has achieved profitable business results, applied high standards of professionalism and ethics, honoring business partners, clients and customers, appreciating the broader social and local community interests as well as ecological imperatives.
For more information visit Business Partners 2011 vist http://www.bpartner.co.rs/general.php?id=87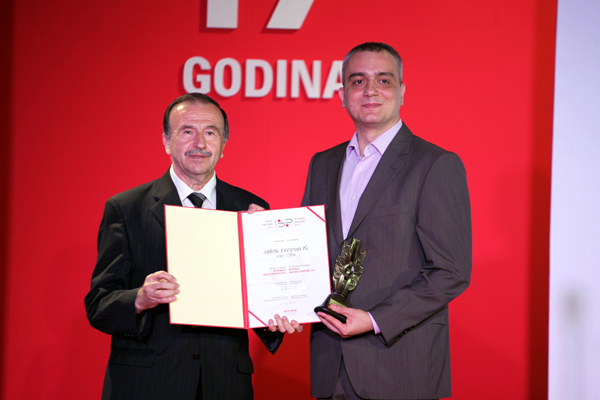 Photo: Mr. Predrag Vrućinić (right), Country Manager at ASBIS Serbia, receives Regional Business Partner 2011 Award.
About ASBIS
ASBISc Enterprises PLC (WSE: ASBIS) is based in Cyprus and specializes in the distribution of IT products from worldwide leading manufacturers such as Intel, AMD, Seagate, Western Digital, Samsung, Microsoft, Toshiba, Dell, Acer, Lenovo and Hitachi. The company has own subsidiaries in 26 countries, more than 1,200 employees and 32,000 active customers in over 70 countries worldwide, and its revenue reached US$ 1,43 billion in 2010. For more information visit the company's website at www.asbis.com