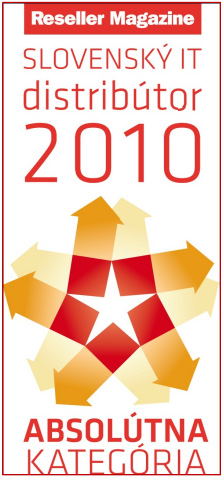 Prague (Czech Republic), January 18, 2011 – ASBIS Slovakia, a subsidiary of the ASBISc Enterprises PLC group (WSE: ASBIS), has named an "IT Distributor of the Year 2010 in Slovakia" by the results of the poll of "Resellers Magazine".
More than 600 representatives of IT, telecom, consumer electronics, software and IT services companies from Czech Republic and Slovakia took part in the poll and selected ASBIS among 30 IT Distributors. The award reflects the achievements of the company in the relations with vendors, system integrators, resellers and retailers and services provided to customers, as well as solid channel commitment.
ASBIS Slovakia also grab the second line in another poll as the runner-up of the 2010 Resellers Magazine "Slovak IT Vendor Awards".
About ASBIS
ASBISc Enterprises PLC (WSE: ASBIS) is based in Cyprus and specializes in the distribution of IT products from worldwide leading manufacturers such as Intel, AMD, Seagate, Western Digital, Samsung, Microsoft, Toshiba, Dell, Acer, Lenovo and Hitachi. The company has own subsidiaries in 26 countries, more than 1,000 employees and 32,000 active customers in over 70 countries worldwide. For more information visit the company's website at www.asbis.com.