ASBIS Middle East, a subsidiary of ASBISC Enterprises PLC (WSE: ASB), has gained an award from AOC "In appreciation of an outstanding contribution towards growing the AOC brand in the region of Algeria for the year 2015" at the special partner event, which was held by AOC in Prague, Czech Republic, on April 27, 2016.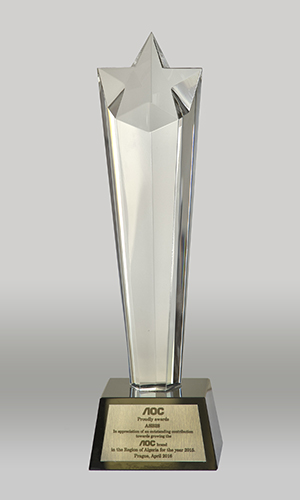 ASBIS wins recognition from AOC for "contribution towards growing the AOC brand" in North Africa
AOC hosted the event for its TOP customers from the region of the Middle East, Turkey and Africa to honor them for great sales achievements and major contribution to the AOC business.
Akram Michael, Sales Director for North Africa region at ASBIS, (pictured second from left) received the awarding statuette at the event.

About ASBIS
ASBISc Enterprises PLC (WSE: ASB) is based in Cyprus and specializes in the distribution of Information and Communications Technology products and solutions from global suppliers including Apple, AMD, Acer, Dell, Intel, Lenovo, Microsoft, Samsung, Seagate, Toshiba, WD. The company has its own subsidiaries all over the region of EMEA, more than 1,100 employees and 27,000 active customers in over 65 countries around the globe. For more information, visit the company's website at www.asbis.com.