ASBIS has been honoured with an award in recognition of its contribution to DELL's product distribution in the EMEA region.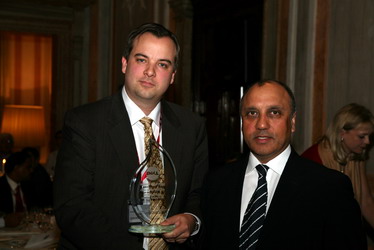 The award was presented by DELL representative Pim Dale, Vice President, Dell Emerging Countries, EMEA, at the Dell Emerging Markets Partner Forum, held in Venice (Italy) from 11th to 13th of April, 2008.
The award was handed over to Laurent Journoud, ASBIS' Executive Vice President, Sales & Marketing. This distinction recognizes ASBIS' success in DELL product distribution. The award titled the "New Partner of the Year FY'08" is very promising but it also imposes greater responsibility on the distributor.
This is the first DELL award achieved by ASBIS since the beginning of cooperation in the middle of 2007. ASBIS Group has now franchises for distribution of DELL products in Russia, Bulgaria, Turkey, the Middle East, Ukraine, Slovenia, Cyprus, Belarus, and Croatia.