For the first time for Hewlett-Packard Enterprise the event was held online due to the unfavorable epidemiological situation.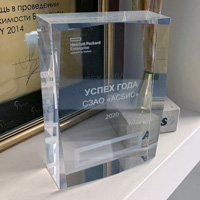 "Success of the 2020"
ASBIS Belarus VAD Team
The representatives of HPE Operated by Sophela specified the high professionalism and organization of ASBIS Belarus specialists, as well as their significant contribution to the maintenance and development of HPE business in Belarus.
The colleagues expressed confidence in continuing cooperation with ASBIS Belarus as a reliable and competent VAD distributor.
"We would like to thank our certified partners for the successful results of the 2020 financial year," concluded Stanislav Zorikov, account manager at Hewlett Packard Enterprise operated by Sophela (Belarus).
An important part of the conference was the work of individual chat rooms, where employees and partners were able to discuss business opportunities and 2021 plans with Andrey Pishchikov, Boris Bauk and other representatives of the company's top management.