ASBIS Middle East, a subsidiary of ASBISC Enterprises PLC (WSE: ASB), won TOP DISTRIBUTOR 2020 Award for "PC & Compute" at GEC Awards 7.0.
Event has been organized by GEC Media Group to the Regional ICT Channel.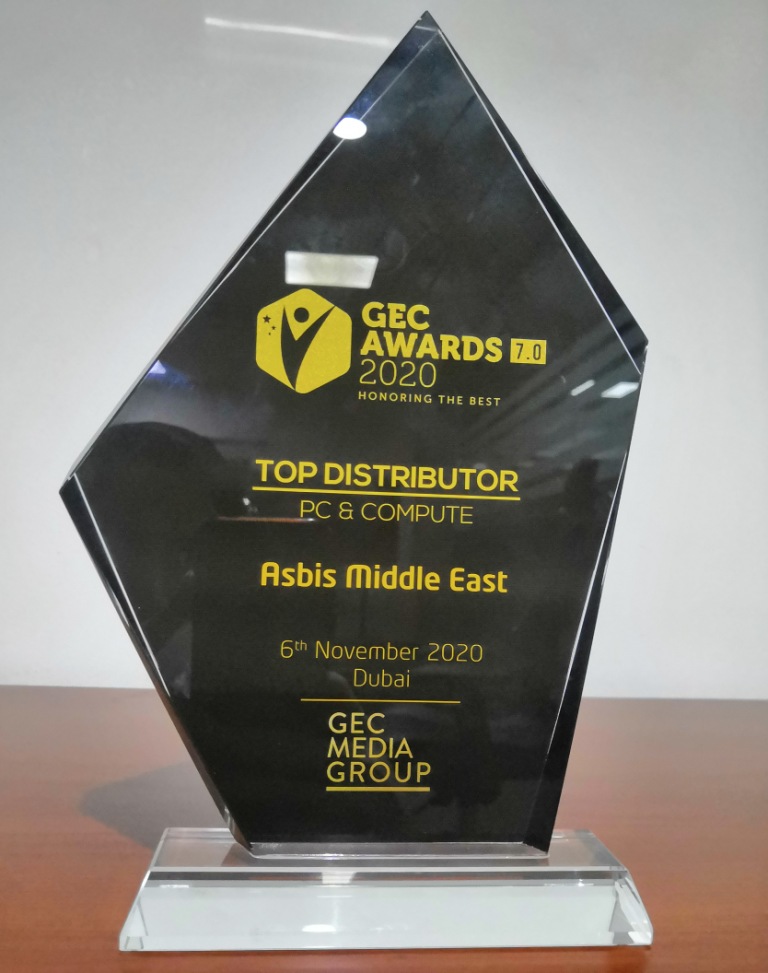 TOP DISTRIBUTOR 2020 Award
It was a first-ever Hybrid Event experience for the Group. The event was held live in-person at the V Hotel, Habtoor City, Dubai (UAE) and was streamed live for delegates across the region.
Currently, in its 7th edition, the GEC Awards 2020 was a tribute to all the unsung heroes, the frontline leaders who have fought the pandemic right on the ground to ensure we live a safe life. Furthermore, the Event celebrated and recognized over 42 regional technology channel players who have brought innovative solutions to the table and helped the customers sail through this pandemic.
Global Enterprise Connect Awards comes through as the benchmark for outstanding performances throughout the Middle East and Africa IT industry, where leading players in the ICT domain compete for the winning title. Spanning over 50 categories, the jury scrutinizes every nook and corner of progress and innovation in the field of information technology and makes sure the deserving ones are recognized, honored and crowned!
ASBIS Middle East has been rewarded in category "TOP DISTRIBUTOR". The category to recognize leading distributors who have driven the true vision of the channel.
We congratulate ASBIS Middle East with the memorable achievement and would like to thank the team for their permanent performance and great work commitment.
The Grammys, Oscar and Nobel prize of the Tech industry, GEC Awards considers nothing but the best!