ASBIS received the "Best Partner" award for the fastest business growth in distribution of corporate licenses at Microsoft's spring Partner Forum on April 25, 2008 in Moscow.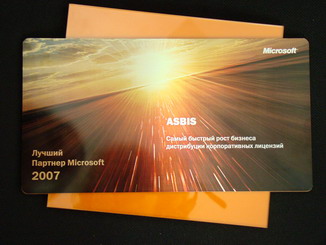 In 2007 ASBIS showed a tremendous sales growth of Microsoft's software open licenses in the Russian Federation.
ASBIS capitalised on the combined efforts of the Russian Government and Microsoft to eliminate illegal software in the country. The award was received by Natalya Shmakova, Microsoft product promotion department head at ASBIS Russia.