The Red Dot Award: Product Design 2020 Jury has made its decision: Prestigio Click & Touch won a Red Dot in four categories:
Innovative Product (in Computer and Information Technology category);
Computer and Information Technology;
TV and Home Entertainment;
Smart Product (in TV and Home Entertainment category)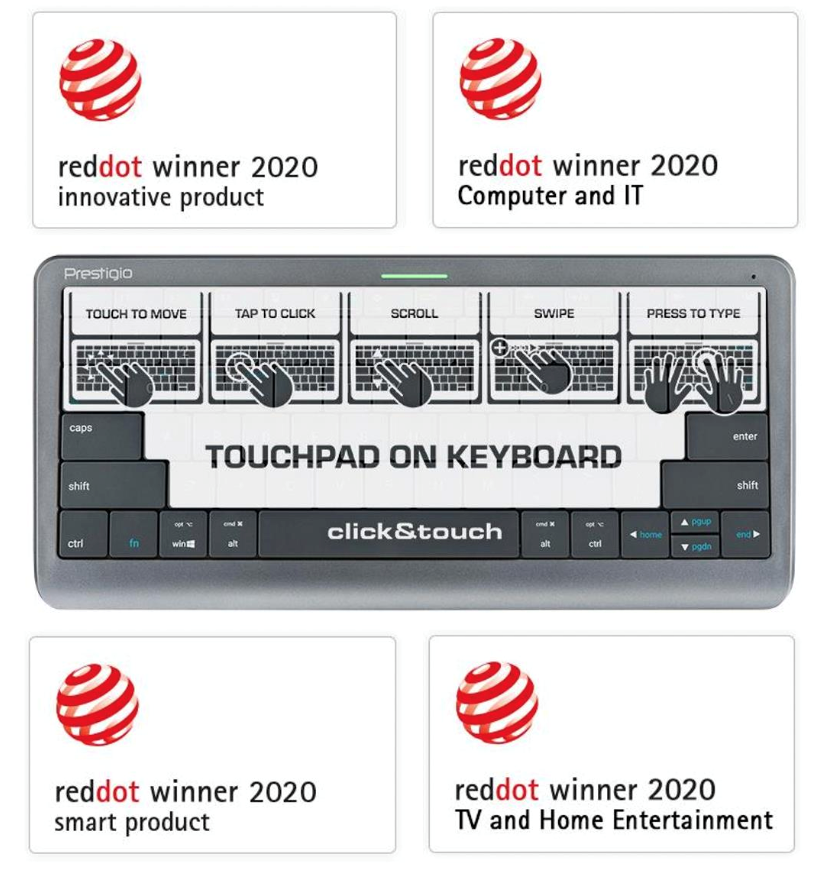 This means that Prestigio multimedia keyboard with touchpad on keys is one of the winners in the world's most renowned design competition.
Prestigio Click&Touch has been designed in cooperation with Clevetura LLC, the design house resided in Minsk High Tech Park in Belarus and specialized on Touch on mechanical keys with sensors.
The winning in multiple nominations is because the Click&Touch is a brand-new, convenient way to input information and change the industry of keyboards and touchpads, by combining the two different devices.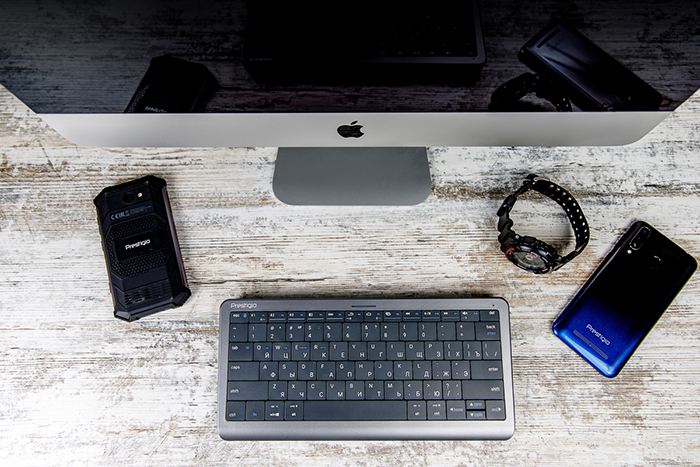 Click&Touch incorporates the capabilities of a keyboard, touchpad and mouse, providing an automatic seamless transition between typing and cursor control. The keyboard system has the function of "smart switching" and "understands" what mode the user is working in, automatically switching to perform the functions of the keyboard and touchpad.
The Prestigio Click&Touch keyboard with touchpad on keys, powered by Clevetura's Touch on Keys® technology, is the perfect combination for use and functionality. The device is technically advanced and visually appealing which makes managing a smart TV, computer, interactive white board, game console, tablet and even a smartphone easy. Up to 5 devices can be connected to the Click&Touch keyboard simultaneously via 3 Bluetooth channels, USB Type-C connector and/or RF. Just out of box.
Detailed evaluation of the products entered The Red Dot Award:
Product Design offers designers and manufacturers from all over the world a platform for assessing their products. In 2020, designers and companies from 60 countries entered more than 6,500 products in the competition. The international jury comprises experienced experts from different disciplines and has been convening for around 65 years in order to select the year's best designs. The adjudication process lasts several days and is based on two essential criteria: The jurors test all of the entries in order to assess not just the aesthetic but also the materials selected, the level of craftsmanship, the surface structure, ergonomics and functionality. After intensive discussions, they make a decision on the design quality of the products. True to the motto "In search of good design and innovation", only the best designs receive an award.
Congratulations to Prestigio and Clevetura teams. Very encouraging.
Product already available for purchase. Contact ASBIS managers to get detailed information.
To learn more about Prestigio Click&Touch multimedia keyboard with touchpad on keys, please, visit: https://click-n-touch.prestigio.com/