Limassol, Cyprus, May 8 th , 2014 - ASBISc Enterprises Plc, a leading distributor of IT products in emerging markets of Europe, the Middle East and Africa, saw its Q1 2014 results significantly affected by the situation in Ukraine, which also affected the situation in Russia. Following a steep drop in demand in those countries, the Company's revenues in Q1 2014 decreased by 22.85%, to USD 342.390 million, from USD 443.824 million in Q1 2013. This consequently affected the gross profit number. However, due to an increase in the gross profit margin, which grew by 10.03%, from 5.90% to 6.49%, the gross profit decrease was less than the decrease in revenues. This was not enough, however, to offset the negative consequences of the crisis in Ukraine, due to significant FX losses of about USD 3 million emanating from the steep depreciation of the Ukrainian Hryvna and the one-off devaluation of the Kazakhstan Tenge. As a result, in Q1 2014 the Company generated a net loss after taxation of USD 3.387 million, compared to a net profit after tax of USD 3.344 million in Q1 2013.
Despite this short-term impact on its results, the Company forecasts full-year 2014 revenues to range between USD 1.6 billion and USD 1.75 billion, and net profit after tax to range between USD 4 million and USD 5 million.
Siarhei Kostevitch, CEO and Chairman of ASBISc Enterprises Plc, commented: "The crisis in Ukraine and the involvement of Russia created turbulence in our business in Q1 2014. This has softened demand, mainly in Ukraine and Russia. We were also hit by the unexpected devaluation of the Kazakhstani Tenge to US dollars in February 2014. These factors resulted not only in unrealized revenues and profits, but also a material FX loss. However, as a result of measures we have taken, the situation is stabilizing. Therefore, even after accounting for a net loss after tax in Q1 2014, we predict that the full year will be profitable for us."
Kostevitch continued: "Despite the lower revenues and loss in Q1 2014, mainly created by one-off unexpected factors, we continued enforcing our strategy of changes in our product portfolio in the direction of higher-margin products. As a result, the gross profit margin grew quite significantly, by 10.03%, to 6.49%, from 5.90% in Q1 2013, and even grew compared to Q4 2013, when it was 6.21%. We expect this trend to continue and bring us benefits in the future."
Financial results in Q1 2014 and Q1 2013 (USD '000)
| | | | |
| --- | --- | --- | --- |
| | Q1 2014 | Q1 2013 | Change |
| Revenues | 342,390 | 443,824 | -22.85% |
| Gross profit | 22,236 | 26,196 | -15.12% |
| Gross profit margin | 6.49% | 5.90% | +10.03% |
| Administrative expenses | (7,895) | (6,885) | +14.67% |
| Selling expenses | (11,373) | (11,835) | -3.90% |
| Operating profit | 2,968 | 7,477 | -60.30% |
| EBITDA | 3,747 | 8,150 | -54.03% |
| Net profit | (3,387) | 3,344 | N/A |
Financial forecast for 2014
For 2014, ASBIS forecasts revenues between USD 1.6 billion and USD 1.75 billion and NPAT from USD 4.0 million to USD 5 million. This forecast includes the impact of the crisis in Ukraine and Russia.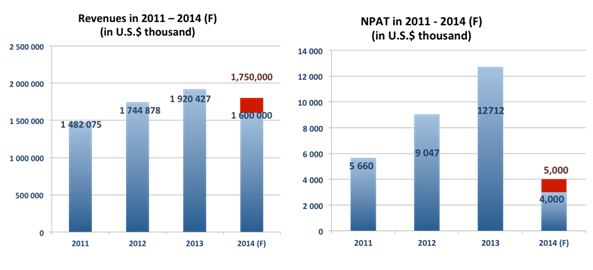 Detailed information on sales profile
Despite the decrease in total revenues in Q1 2014, sales of the Group's own brands Prestigio and Canyon and their contribution to total Group revenues grew.
In Q1 2014, revenues from own brands grew by 22.14%, to USD 93.167 million, compared to USD 76.281 million in Q1 2013. This growth would have been much higher if not for the turbulence in the Company's major markets of Russia and Ukraine. Own brands' contribution in total revenue was 27.21%, compared to 17.19% in Q1 2013, and in line with the Company's strategic plans.
In Q1 2014, compared to Q1 2013, the segments of smartphones and tablets, like other product lines, felt the negative effects of the markets.
Revenues from sale of tablets increased by 9.41%, to USD 63.234 million, from USD 57.794 million in the corresponding period of 2013.
Revenues from sale of smartphones decreased by 35.71%, to USD 51.915 million, from USD 80.746 million in the corresponding period of 2013. This was mostly due to lower sales of third-party products.
Revenue breakdown by regions in Q1 2014 and Q1 2013 (USD '000)
Q1 2014

Q1 2013

% of total
revenues

USD
thousand

% of total
revenues

Central and Eastern Europe

145,920

42.62%

169,054

38.09%

Former Soviet Union

122,356

35.74%

160,143

36.08%

Middle East and Africa

48,140

14.06%

65,506

14.76%

Western Europe

18,658

5.45%

42,456

9.57%

Other

7,316

2.14%

6,665

1.50%

Total

342,390

100%

443,824

100%
Top 10 countries by performance in Q1 2014 (USD '000)
Country

Sales Perfomance

Q1 2014

Q1 2013

Change USD

Change %

Poland

17,000

12,736

+4,264

+33%

Slovakia

46,399

38,097

+8,302

+22%

United Arab Emirates

31,516

27,794

+3,722

+13%

Czech Republic

19,845

19,096

+749

+4%

Romania

12,175

12,500

-325

-3%

Russia

73,381

88,766

-15,385

-17%

Belarus

13,393

17,110

-3,717

-22%

Kazakhstan

12,061

17,174

-5,113

-30%

Ukraine

21,980

34,062

-12,082

-35%

Bulgaria

19,353

37,316

-17,963

-48%
For additional information, please contact:
Daniel Kordel , ASBISc Enterprises PLC, Investor Relations
Tel. +357 99 633 793
Tel. +48 509 020 021
E-mail d.kordel@asbis.com
Costas Tziamalis , ASBISc Enterprises PLC, Investor Relations
Tel. +357 25 857 000
E-mail costas@asbis.com
Iwona Mojsiuszko , M+G
Tel. +48 22 625 71 40
Tel. +48 501 183 386
E-mail iwona.mojsiuszko@mplusg.com.pl

ASBISc Enterprises Plc is based in Cyprus and specializes in the distribution of computer hardware and software, mobile solutions, IT components and peripherals, and a wide range of IT products and digital equipment. Established in 1990, the Company has a presence in Central and Eastern Europe, the Baltic States, the former Soviet Union, the Middle East, and North Africa, selling to 75 countries worldwide. The Group distributes products of many vendors, and manufactures and sells private-label products: Prestigio smartphones, tablet PCs, external storage, leather-coated USB accessories, GPS devices, Car-DVRs, MultiBoards etc., and Canyon (MP3 players, networking products and other peripheral devices). ASBIS has subsidiaries in 26 countries, more than 1,700 employees and 32,000 customers. The Company's stock has been listed on the Warsaw Stock Exchange since October 2007 under the ticker symbol "ASB" (ASBIS). For more information, also visit the company's website at www.asbis.com or investor.asbis.com