ASBIS RESULTS IN Q4 2017:
ALMOST 50% GROWTH IN REVENUES AND NET PROFITABILITY COUPLED WITH USD 26 MILLION IMPROVEMENT IN CASH FROM OPERATING ACTIVITIES YEAR-ON-YEAR
REVENUES GREW TO USD 542 MILLION IN Q4 2017 AND USD 1.48 BILLION FOR 12M 2017
Q4 2017 NPAT INCREASED TO USD 3.8 MILLION, RAISING THE FULL YEAR RESULT TO USD 6.9 MILLION
CASH FLOW FOR BOTH Q4 AND 12M 2017 WAS AT THE BEST LEVELS IN YEARS
FINANCIAL FORECAST FOR THE YEAR 2017 DELIVERED, FORECAST FOR 2018 WILL BE PUBLISHED
Limassol, Cyprus, 27 February 2018 - ASBISc Enterprises Plc, a leading distributor of IT products in the emerging markets of Europe, the Middle East and Africa, had a very strong last quarter of 2017. In Q4 2017 the Group increased its revenues by almost USD 178 million, i.e. 49%, to USD 542 million, from USD 364 million in Q4 2016. For the twelve months of 2017 revenues grew by USD 346 million y-o-y, i.e. 30%, to USD 1.485 billion, as compared to USD 1.139 billion in 2016.
Expenses grew only as a function of gross profit. Net income for Q4 2017 significantly improved to USD 3.8 million, as compared to USD 2.6 million in the corresponding period of 2016. Net profit after tax in 2017 exceeded USD 6.9 million, as compared to USD 4.6 million in 2016—an increase of nearly 50% y-o-y.
As a result, the Group delivered its upward revised financial forecast for 2017, issued on 6 February 2018, and is continuing measures aimed at further improvement in profitability. The forecast for 2018 will be published.
Siarhei Kostevitch, CEO and Chairman of ASBISc Enterprises Plc, commented: "Q4 2017 was for us a strict continuation of the measures we took for the whole year. Revenues grew significantly in both our major operating regions, FSU and CEE. Although the gross profit margin for Q4 2017 was lower year-on-year, the net profit margin was at a similar level. Additionally, the ratio of SG&A expenses to revenues decreased by more than 15% compared to the previous year. Thus, while business grew, our net profitability improved significantly."
Siarhei Kostevitch continued: "The other important factor characterizing Q4 2017 was the very strong positive cash flow resulting from changes in our strategy and product portfolio. Considering our present position, what we have managed to generate so far and the anticipated effects of our actions in the future, we are confident that we will deliver a strong 2018. We plan to come out with a financial forecast soon."
DETAILED INFORMATION ON SALES PROFILE
Revenues in the Former Soviet Union grew in the 4th quarter of 2017 by 77.51% and in Central and Eastern Europe by 42.31%. For 12M 2017 sales in the FSU region grew by 61.63% while sales in CEE grew by 16.42%. The stronger improvement in the FSU region resulted from the Group's investments and improved market sentiment. ASBIS anticipates this strong upward trend in sales for both territories to remain in place in the near future. For 12M 2017 the Group also significantly improved its sales in Western Europe, while sales in the MEA region remained stable year-on-year.
A country-by-country analysis reveals a better understanding of these trends. Growth in FSU arose from continuous improvement in Ukraine (+119.84% in Q4 2017 and +78.79% in 12M 2017), Russia (+18.06% in Q4 2017 and +33.40% in 12M 2017), Kazakhstan (+42.71% in Q4 2017 and +96.13% in 12M 2017) and Belarus (+96.85% in Q4 2017 and +51.69% in 12M 2017). At the same time, strong growth in CEE in Q4 2017 and more tempered growth in this region for 12M 2017 resulted from the trends in Slovakia (+17.12% in Q4 2017 and -5.76% in 12M 2017), which was weak in the first half of the year, the Czech Republic (+25.45% in Q4 2017 and +22.74% in 12M 2017) and Romania (+77.35% in Q4 2017 and +51.52% in 12M 2017).
The MEA result was mainly determined by revenues in UAE (+21.48% in Q4 2017 and -4.16% in 12M 2017), while Western Europe was driven by the Netherlands (+58.91% in Q4 2017 and +65.18% in 12M 2017).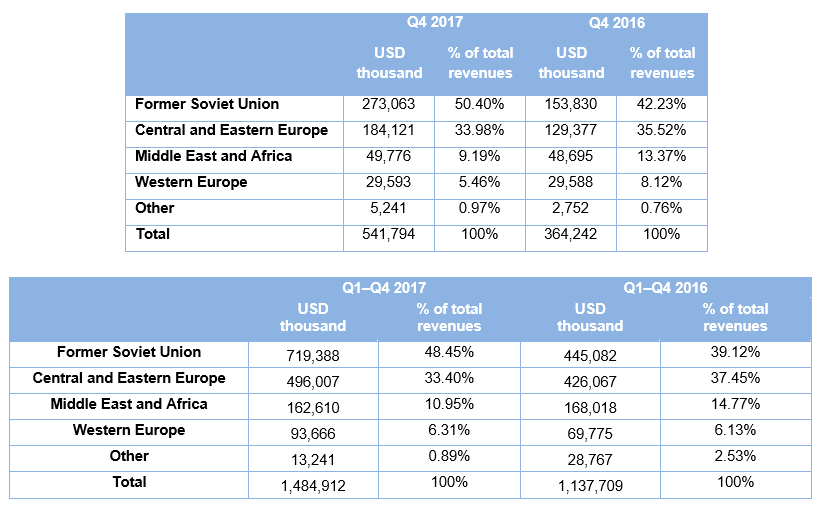 Growth in Q4 2017 and FY 2017 sales resulted from strong growth in sales of smartphones, tablets, laptops, SSDs, storage drives and other product lines.
The breakdown in sales by product line was as follows:
Smartphone sales, which are the key driver of sales growth, increased by 100.03% in Q4 2017 and 77.91% in 12M 2017.
The tablet business grew by 91.88% in Q4 2017 and 32.86% in 12M 2017.
Laptop sales increased by 33.34% in Q4 2017 and 11.48% in 12M 2017.
SSD sales continued their strong growth (+29.19% in Q4 2017 and +61.85% in 12M 2017).
HDD sales grew by 9.58% in Q4 2017 and 1.29% in 12M 2017.
CPU sales decreased by 13.50% in Q4 2017 and 6.06% in 12M 2017.
Among other product lines, the Company noted a positive trend for Q4 and 12M 2017 in mainboards and VGA cards (+239.37% and +215.02% respectively), peripherals (+21.58% and +30.85%), memory modules (+85.96% and +89.37%), accessories and multimedia (+58.59% and +47.21%), and flash memory (+30.93% and +24.71%).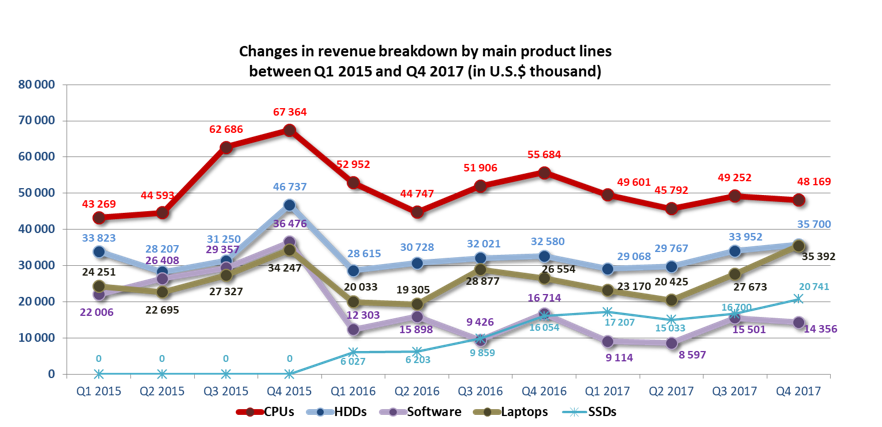 For additional information, please contact:
Daniel Kordel, ASBISc Enterprises PLC, Investor Relations Manager
Tel. +48 662 900 261
E-mail d.kordel@asbis.com
Costas Tziamalis, ASBISc Enterprises PLC, Investor Relations Director
Tel. +357 25 857 000
E-mail costas@asbis.com
ASBISc Enterprises Plc is based in Cyprus and specializes in the distribution of computer hardware and software, mobile solutions, IT components and peripherals, and a wide range of IT products and digital equipment. Established in 1990, the Company has a presence in Central and Eastern Europe, the Baltic States, the Former Soviet Union, the Middle East and North Africa, selling to 60 countries worldwide.
The Group distributes products of many vendors, and manufactures and sells private-label products: Prestigio (smartphones, tablets, external storage, leather-coated USB accessories, GPS devices, Car-DVRs, Multiboards etc.) and Canyon (MP3 players, networking products and other peripheral devices).
ASBIS has subsidiaries in 24 countries, about 1,100 employees and 32,000 customers.
The Company's stock has been listed on the Warsaw Stock Exchange since October 2007 under the ticker symbol "ASB" (ASBIS).
For more information, also visit the company's website at www.asbis.com or investor.asbis.com