ASBISc Enterprises Plc, a leading distributor of IT products in the emerging markets of Europe, the Middle East and Africa, posted a significant improvement in its results as compared to Q1 2015. On revenues 11.61% lower, gross profit increased by 93.17% as a result of the focus-on-margins strategy introduced back in Q3 2015. This resulted in a robust, significantly higher gross profit margin of 5.34%, overcoming all previous recent quarters.
At the same time, the Company further decreased selling, administration and financial expenses. It is especially significant that selling expenses decreased by 38.18% at a time of a 93.17% increase in gross profit.
As a result of the increase in gross profit and decline in expenses, profitability grew at all levels. EBITDA was a positive USD 3.802m in Q1 2016, as compared to a negative EBITDA of USD 7.980m in Q1 2015. The Company also produced a net profit after tax of USD 401k, a USD 12.805m improvement when compared to Q1 2015.
Having seen the results of Q1 2016, the Company maintains the financial forecasts for Y2016.
Siarhei Kostevitch, CEO and Chairman of ASBISc Enterprises Plc, commented: "Q1 2016 was in line with our budget. We have successfully realized our main priorities for Y2016. The gross profit margin grew to 5.34%, from only 2.44% in Q1 2015, and we also significantly reduced our costs. While reduction of expenses is a direct result of cost-cutting actions started back in Q1 2015, improvement in the gross profit margin was achieved for two major reasons. Firstly, we focused on upgrading our product portfolio and conducted sales only when the margin was satisfactory – not to enter into huge price wars and unnecessary competition. Secondly, we have managed to optimize our private label business to a lower amount of revenue, but a much healthier return on our investment. As a result, we have generated a positive net result, and more importantly we expect our results to further improve in the next quarters and allow us to deliver our financial forecasts."
FINANCIAL RESULTS IN Q1 2016 AND Q1 2015 (USD '000)
| | | | |
| --- | --- | --- | --- |
| Revenue | 249,095 | 281,809 | -11.61% |
| Gross profit | 13,302 | 6,886 | +93.17% |
| Gross profit margin | 5.34% | 2.44% | +118.54% |
| Administrative expenses | (3,889) | (5,555) | -29.99% |
| Selling expenses | (6,145) | (9,940) | -38.18% |
| Profit from operations | 3,269 | (8,608) | N/A |
| EBITDA | 3,802 | (7,980) | N/A |
| Profit after taxation | 401 | (12,404) | N/A |
DETAILED INFORMATION ON SALES PROFILE
In Q1 2016, several improvements were observed in F.S.U. countries, especially Ukraine, performing better than the Company's CEE operations. Revenues derived from the F.S.U. region in Q1 2016 were 8.17% lower than in Q1 2015. Sales in the Central and Eastern Europe region in Q1 2016 decreased by 23.25% compared to Q1 2015.
Sales in Western Europe in Q1 2016 increased by 50.72% compared to Q1 2015, as a result of strong sales of components in this region. In Q1 2016 sales in MEA increased by 4.73% as compared to Q1 2015.
A country-by-country analysis confirms improvement in operations in Ukraine, where sales increased by 154.05% in Q1 2016 compared to Q1 2015. Sales in Russia decreased by 5.07%. In the CEE region, sales in Slovakia decreased by 13.30%, which was expected following a very strong Q1 2015, but sales in Czech Republic grew by 9.51%. In absolute numbers, Slovakia continued to be the leader in the country split of the Company's business, but F.S.U. countries – after recent improvements – are coming back stronger.
USD '000

% of total
revenues

USD '000

% of total
revenues

Central and Eastern Europe

99,413

39.91%

129,524

45.96%

Former Soviet Union

73,926

29.68%

80,505

28.57%

Middle East and Africa

43,871

17.61%

41,888

14.86%

Western Europe

22,768

9.14%

15,106

5.36%

Other

9,118

3.66%

14,785

5.25%

Total

249,095

100%

281,809

100%
In Q1 2016 the Company returned to its traditional strengths. Sales from CPUs were the strongest among the product line split, after a significant 22.38% increase year on year. They were followed by the smartphones segment, which remains big, but smaller than a year ago due to the Company's focus on margins. From other major product lines, there were decreased revenues in the software business caused by lower-than-expected demand for Windows 10, and continued decrease of the tablets business, as was expected.

From other product lines, in Q1 2016 the Company noticed a positive trend in mainboards and VGA (+78.54%), display products (+27.86%), memory modules (+63.29%), servers and server blocks (+18.82%), optical and floppy drives (+99.12%) and networking products (+16.44%). The share of the four traditional product lines (CPUs, HDDs, laptops and software) in total revenues increased to 45.73%, from 43.77% in Q1 2015.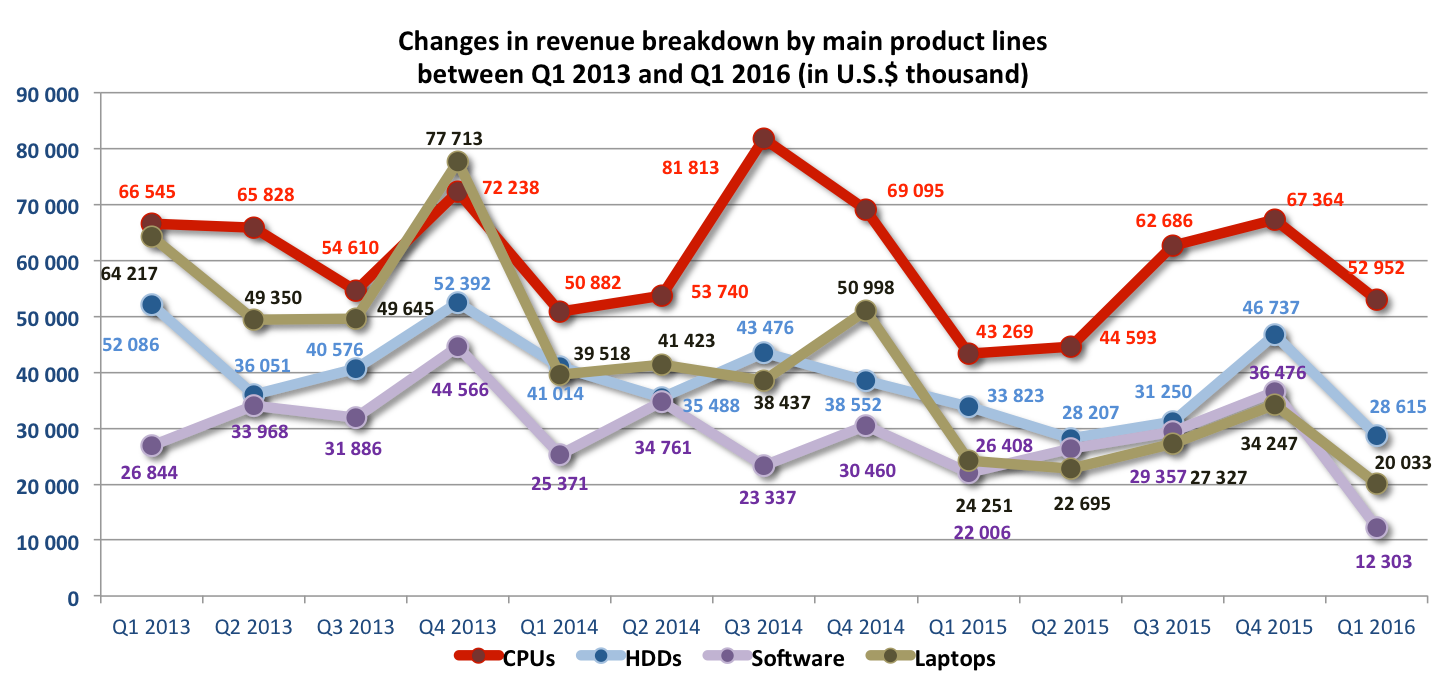 For additional information, please contact:
Daniel Kordel, ASBISc Enterprises PLC, Investor Relations
Tel. +357 99 633 793
E-mail d.kordel@asbis.com
Costas Tziamalis, ASBISc Enterprises PLC, Investor Relations
Tel. +357 25 857 000
E-mail costas@asbis.com
ASBISc Enterprises Plc is based in Cyprus and specializes in the distribution of computer hardware and software, mobile solutions, IT components and peripherals, and a wide range of IT products and digital equipment. Established in 1990, the Company has a presence in Central and Eastern Europe, the Baltic States, the former Soviet Union, the Middle East, and North Africa, selling to 60 countries worldwide. The Group distributes products of many vendors, and manufactures and sells private-label products: Prestigio (smartphones, tablets, external storage, leather-coated USB accessories, GPS devices, Car-DVRs, MultiBoards etc.) and Canyon (MP3 players, networking products and other peripheral devices). ASBIS has subsidiaries in 26 countries, about 1,100 employees and 32,000 customers. The Company's stock has been listed on the Warsaw Stock Exchange since October 2007 under the ticker symbol "ASB" (ASBIS).
For more information, also visit the company's website at www.asbis.com or investor.asbis.com