Limassol (Cyprus), November30, 2011 – In a day after AMD introduced Memory brand forentertainment, performance and enthusiast desktop computers, ASBIS Group is offering the whole range of the products to its customers through company network in 26 countries of EMEA region.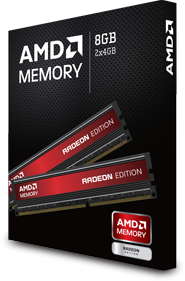 AMD Memory branded products will help take the guesswork out of DRAM selection, providing an easy and straightforward experience when looking for the ideal match for gaming or multimedia PC needs.
As part of AMD's development of personal computer platforms, the company has used the AMD OverDrive™ performance optimization tool to test and optimize DRAM in conjunction with the company's APUs, CPUs, GPUs and chipset platforms. This unique insight is now helping AMD tune and optimize memory modules for other manufacturers.
In addition to leveraging AMD's experience in creating graphics, CPUs, APUs and motherboard chipsets, this new product line also enables retailers to round out AMD bundles with memory, helping to ensure an easy, confident upgrade experience that places a heavy emphasis on compatibility and stability. Customers can purchase a complete package designed to deliver top performance and maximum value.
This initiative builds on AMD's history of helping to supply high-quality DDR3 modules to video card add-in-board manufacturers in an effort to help ensure availability.
AMD Memory is available at three different levels - 2GB, 4GB and 8GB sizes - in a range of price points and speeds. The Entertainment category will feature 1333 MHz and 1600 MHz speed RAM, designed for quiet Home Theater PC applications. The Performance version supports speed up to 1600 MHz with low latency and comes in matched pairs. Finally, Radeon™ Edition DRAM will run at 1866 MHz, and is tuned, tested and certified for specific AMD platforms to enable maximum performance at competitive pricing.
AMD is collaborating with memory module makers to create AMD Memory branded products from components qualified to meet certain specifications. By testing and certifying the memory components, end-users can be assured of compatibility with AMD platforms. AMD Memory is also designed to deliver quality and reliability with compatible chipsets and processors from other manufacturers.
About ASBIS
ASBISc Enterprises PLC (WSE: ASB) is based in Cyprus and specializes in the distribution of IT products from worldwide leading manufacturers such as Intel, AMD, Seagate, Western Digital, Samsung, Microsoft, Toshiba, Dell, Acer, Lenovo and Hitachi.The company has own subsidiaries in 26 countries, more than 1,200 employees and 32,000 active customers in over 70 countries worldwide, and its revenue reached US$ 1,43 billion in 2010. For more information visit the company's website at www.asbis.com.
About AMD
AMD (NYSE: AMD) is a semiconductor design innovator leading the next era of vivid digital experiences with its ground-breaking AMD Fusion Accelerated Processing Units (APUs). AMD's graphics and computing technologies power a variety of solutions including PCs, game consoles and the servers that drive the Internet and businesses.More information is available at www.amd.com.