Limassol (Cyprus), June 27, 2011 – ASBISc Enterprises Plc., a leading distributor of IT products in emerging markets of Europe, the Middle East and Africa, has launched new video portal for IT distribution industry at http://channel.asbis.com.
"This video portal supposed to be a perfect place for demonstrations, tutorials and new product announcements," said Haljas Patapovic, channel marketing director at ASBIS. "New resource will definitely become an option to our manufacturers to showcase products or services to audience of ASBIS, while company' customers will get up-to-date video information on new IT technologies from single place."
The portal aggregates IT products videos into one convenient location so users don't need to search multiple sites to find relevant content. Video portal also offers efficient navigation as well as direct links to online b2b marketplace of Asbis to purchase featured products.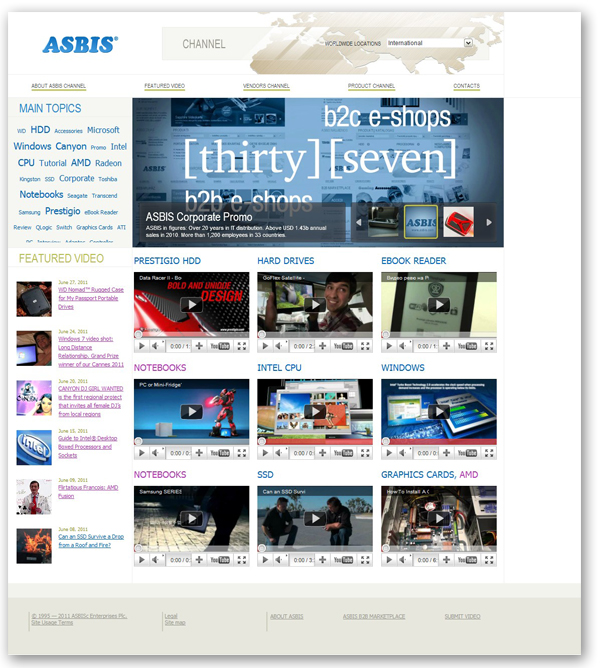 About ASBIS
ASBISc Enterprises PLC (WSE: ASB) is based in Cyprus and specializes in the distribution of IT products from worldwide leading manufacturers such as Intel, AMD, Seagate, Western Digital, Samsung, Microsoft, Toshiba, Dell, Acer, Lenovo and Hitachi. The company has own subsidiaries in 26 countries, more than 1,200 employees and 32,000 active customers in over 70 countries worldwide, and its revenue reached US$ 1,43 billion in 2010. For more information visit the company's website at www.asbis.com