ASBIS Middle East, a subsidiary of the ASBISC Enterprises PLC (WSE: ASB), has been declared the "Components Distributor of the Year" at the annual "Reseller Partner Excellence Awards 2013" took place on June 12, 2013 at Jumeirah Emirates Towers in Dubai (United Arab Emirates).
The recognition comes for delivering on highest business growth, contribution to the ASBIS' brands and proactive channel development. Prestigio an own trademark of ASBISC Enterprises PLC has been recognized the "Mobility Vendor of the Year 2013" by the editor's choice at the same RPE Awards event.
The fourth annual Reseller Partner Excellence Awards ceremony held at the sophisticated Godolphin Ballroom of Jumeirah Emirates Towers hotel (Dubai, UAE) invited IT community to celebrate the businesses which have prevailed throughout one of the most challenging years for the Middle Eastern IT channel. The awards covered several categories, including vendors, distributors, editor's choice, and a selection of new entries.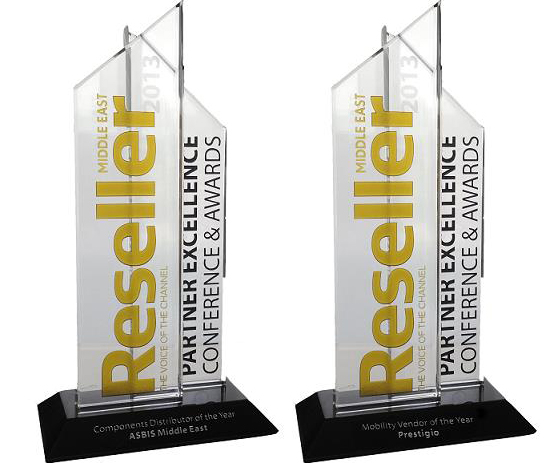 About ASBIS
ASBISC Enterprises PLC (WSE: ASB) is based in Cyprus and specializes in the distribution of IT products from worldwide leading manufacturers such as Intel, AMD, Seagate, Samsung, Microsoft, Apple, Dell, Toshiba, Acer, Lenovo and Hitachi. The company has own subsidiaries in 29 countries, more than 1,240 employees and 26,000 active customers in over 85 countries worldwide, and its revenue reached US$ 1.745 billion in 2012. For more information visit the company's website at www.asbis.com.
About Prestigio
Prestigio is the own trademark of ASBISC Enterprises PLC. Prestigio is a fast-growing, well-established international brand sold in 70 countries and is increasingly ranked among the most regarded brands in emerging markets across the EMEA region. Prestigio has received two international certifications, ISO 9001 and ISO 14001. For more information visit the website at www.prestigio.com