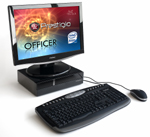 PRAGUE, Czech Republic, 20/05/ 2009 – Prestigio began shipments to Europe, Middle East and Africa of a new PC for office use with a recommended end-user price of 169 € for entry level configuration (plus VAT). The Officer 230 is the latest addition in Prestigio's lineup of small, compact and low-cost desktop PCs – also called nettops.
This new, ready-to-use PC Officer 230 is based on Intel Atom 230, a low power consumption CPU, and Ubuntu 9.04 software suite which includes operation system and office suite applications: word processor, spreadsheets, presentations, Mozilla Firefox internet browser, photos and multimedia players. Because this nettop is designed for performing basic computing tasks, it is smaller and lighter, has a low price tag and has low-power consumption.
"Prestigio is pleased to deliver this new line of small and compact PCs to meet a very fast growing demand for power-efficient and more user-friendly computing systems, at a low end-user price", said Josef Hraban, the chief technology officer of PC division of Prestigio Europe. "The long term cooperation with our technology partners like Intel, Microsoft and Seagate allows us to provide computing power that meets the needs of a vast majority of small businesses, at a very affordable price. I am also very excited to see, on the new Prestigio computers, how user-friendly the interfaces are and how powerful the functionality of Ubuntu 9.04 PC suite is. It makes our new line of office PCs ideal for users who need to run constantly a few applications."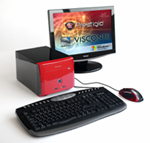 Prestigio's lineup of nettops also includes computers with configurations on Intel Atom 330 dual core CPU and Microsoft operation systems. To meet different needs, Prestigio offers the 'Officer 330' family of nettops for small and medium offices, as well as the 'Visconte 330' family, which comes in a cube-size case, HDD up to 500GB, RAM up to 2GB and is made for home & office. "Thanks to ASBIS group, our master distributor EMEA, the shipments of these low-cost computers are reaching European markets very fast", said Geert van Dijk, Prestigio vice president for Europe, Middle East and Africa.
"We always like to distribute the newest technology", explained Serhei Kostevitch, CEO of ASBIS group. "These products meet both price, functionality, and the right dose of power for vast majority of computing needs in offices. Our job is to make sure that the demand for Prestigio "Officer" and "Visconte" PCs will be satisfied by supply. And we will do it well."
Available models at on-line ASBIS e-shop:
About Prestigio
The Prestigio brand offers an exclusive combination of elegance, sophistication, high product quality, advanced technology and state-of-the-art design. We aim to provide an enhanced quality of life with affordable luxury products to those who enjoy a contemporary lifestyle. Our portfolio encompasses various collections with GPS navigators, nettops, storage devices, portable DVD players, notebook bags, and more. The brand is committed to providing innovative and reliable product to meet the growing demand for accessible, modern IT-related products and consumer electronics. For more information, visit www.prestigio.com or buy directly our products from www.asbis.com/buy-online
See more Prestigio products