Limassol (Cyprus), November 15th, 2007 – ASBISc Enterprises Plc (ASBIS), a leading supplier of computer components to the EMEA emerging markets, has extended the distribution agreement with Corsair Memory, a leader in the design and manufacture of high-speed memory modules, to include the Balkan countries of Serbia, Croatia and Slovenia.
The current extension complements the initial agreement which authorises ASBIS to distribute Corsair products in Ukraine. ASBIS will now also distribute the whole range of Corsair products including the flagship DOMINATOR™ line of performance memory, as well as mainstream performance XMS family, ValueSelect and Server product lines to the growing IT markets of Serbia, Croatia and Slovenia.
As a pioneer in high-speed module design, Corsair is a trusted supplier to many computer manufacturers. In high-density memory solutions, Corsair has always been one of the first suppliers to achieve advanced qualifications on Intel, Tyan and SuperMicro server platforms. Corsair also works closely with other major server platform manufacturers to release product that is 100% compatible with their latest server products. The company focuses on supporting the special demands of mission-critical servers and high-end workstations, as well as the performance demands of extreme gamers and overclockers.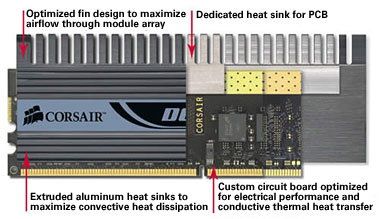 Corsair's flagship memory products are the DOMINATOR™ line of performance memory, which is designed for the unique demands of the serious enthusiast community. Featuring patent-pending Dual-path Heat Exchange (DHX) technology, the DOMINATOR family maximizes on performance, minimizes on heat, all the while running with heighten reliability and stability. The DOMINATOR line has set world performance records and won numerous awards.
Corsair's mainstream performance memory solutions are the XMS family. The XMS family includes XMS2 DHX, featuring innovative DHX technology now in the mainstream; XMS Xpert, the first modules with real-time display of parametric data; XMS Pro Series, gaming memory with real-time activity LEDs; and XMS2, high-performance DDR2 modules with black heat spreaders. The XMS Family also includes DDR1 solutions in XMS, available in either black or platinum heat spreaders.
Corsair's Value Select memory brings quality and compatibility standards to cost-effective products for today's most popular desktops and laptops. Value Select is available in DDR1 and DDR2. Corsair also offers a large range of ultra-reliable server memory for mission-critical servers and high-performance clusters.