Toshiba has awarded in-country distribution rights for Saudi Arabia to ASBIS Middle East FZE. ASBIS has been given license to develop Toshiba's commercial business by dealing with SMB resellers and VARs.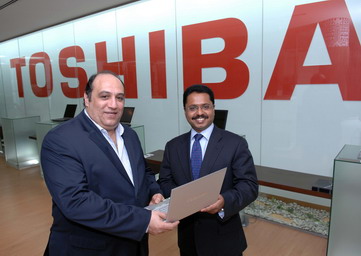 The Saudi PC and notebook market is expected to reach close to $4bn by 2011 and already accounts for 40 percent of the overall spend in the GCC (Gulf Cooperation Council) region.
With notebook sales in Saudi Arabia far surpassing those of desktops, Toshiba has rationalized its distribution channel in the Kingdom with the appointment of two new distribution partners (ASBIS and Redington) who join the existing two to focus on particular sectors of the market.
"2008 is certainly going to be a very important year for Toshiba in the Kingdom. Technology and the internet are being embraced and are spreading fast, so many opportunities are there for the taking," said Santosh Varghese, regional general manager for Toshiba's Computer Systems Division. "I am confident that Toshiba is now in a perfect position to service all facets of this market and I believe that our strategy will be proven right in 2008."
In addition to this, the exponential growth of the small to medium sized business market has highlighted the requirement for a more structured channel to market and this is where ASBIS will support Toshiba by dealing with SMB Resellers and Value Added Resellers.
Hesham Tantawi, Vice President MEA at ASBIS, concluded: "We are very excited about this new partnership. Our knowledge of the market in Saudi, coupled with our longstanding link with big brand technology partners such as Toshiba, will sure prove a winning formula for the Kingdom."
The distribution agreement with ASBIS will further cement Toshiba's status within the Saudi market and is a result of a focused analysis of opportunities in the Kingdom conducted by Toshiba in 2007. As noted by Santosh Varghese, "2008 sees Saudi Arabia being a key-market for many vendors, which undoubtedly will be resulting in some fierce competition and serious challenges, but I am confident that Toshiba will be at the forefront setting the pace."
The new arrangement for Saudi Arabia complements the existing authorized distributorship agreement between ASBIS and Toshiba, covering 16 other countries of the EMEA region.