ASBIS is about to begin shipments of Lite-On's new cenOmax branded digital photo frames. The first model opening the new product line is the 7-inch cenOmax F700A which is ideally suited for sharing digital photo slideshows with music.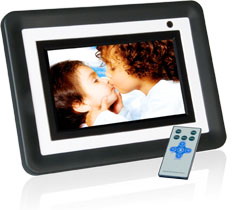 The F700A features a seven-inch TFT widescreen display with 480 x 234 pixel resolution, a contrast ratio of 400:1, built-in stereo speakers for MP3 playback, up to 2GB capacity using external Flash memory cards (SD, MMC, MS) or USB storage, interchangeable frames, transition effects and matting mode, and user-friendly menu structure. The photo frame supports JPEG and MP3 file formats and weighs 615 grams. It comes with a handy remote control for easy operation.
According to the recent IDC market study, worldwide shipments of digital frames reached 2.8 million units in 2006, with an average selling price of $168, and will grow to 42.3 million units by 2011. The 5 to 6.9 inch frame category made up the bulk of the market in 2006, but the 7 to 8.9 inch category will dominate in 2007 and retain the top spot throughout 2011. Shipments growth of digital frames will be driven by added features, larger frame sizes, and lower prices.