Limassol (Cyprus), April 14, 2008 – ASBIS Group, a leading supplier of computer hardware and software to the EMEA emerging markets, has assumed the role of the main sponsor of the major basketball event – ASBIS EuroCup Final Four 2008 – to be held between the 18th and 20th April in Limassol, Cyprus.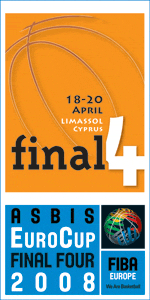 FIBA EuroCup is on of the top two European men's basketball competitions directly run by FIBA Europe. This year's event will be hosted for the first time by the leading Cypriot squad PROTEAS EKA AEL. In the last five years this team has been participating with great success in FIBA EuroCup and has managed to establish Cyprus as a fast growing basketball country.
"ASBIS is proud to be associated with this highest ranking European basketball event", said Marios Christou, ASBIS' Chief Financial Officer. "We are honoured to make a contribution towards this exciting game which displays team spirit, iron will and dedication – the qualities that are also essential for winning in our highly competitive IT market. As a good corporate citizen, we are equally privileged to contribute towards making Cyprus an even more attractive sports and business venue. I am positive this is going to be a great event for players and fans alike".
Winning the Final Four is considered one of the greatest accomplishments in European basketball, and the finalist teams will do their utmost to gain the upper hand in this outstanding competition. The finalist teams of the ASBIS EuroCup Final Four 2008 are Tartu Rock (Estonia), Barons LMT (Latvia), Dexia Mons Hainaut (Belgium) and PROTEAS EKA AEL (Cyprus). The hosts will take on Dexia Mons-Hainaut in one semi-final on the 18th April, while Baltic sides Tartu Rock and Barons LMT of Riga will battle in the other.

About ASBIS
ASBISc Enterprises PLC (WSE: ASBIS) is based in Cyprus and specialises in the distribution of IT products from worldwide leading manufacturers such as Intel, Seagate, Hitachi, Microsoft, Samsung, AMD, Toshiba and DELL. ASBIS has own subsidiaries in 19 countries, more than 900 employees, 20000 customers, and its revenues reached almost US$ 1.4 billion in 2007. ASBIS also distributes its own brands, Canyon (MP3 Players, Networking products and other gadgets), and Prestigio (LCD Monitors, External storage, Leather USB Accessories). For more information, visit the company's websites at www.asbis.com, www.prestigio.com, and www.canyon-tech.com.


Media contact:
Victor Lukyanov
PR Manager
ASBISc Enterprises plc
E-mail: Victor.Lukjanov/at/asbis.net