BUY ONLINE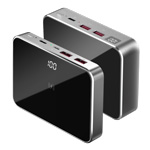 Graphene PD
Graphene PD series power banks offer fast, wireless charging and allow you to charge several devices at the same time. Graphene technology protects them from overheating and extends their life three times compared to traditional batteries. Both models in this series, Graphene PD 10,000 mAh and Graphene PD Pro 20,000 mAh, are made of high-quality metal and tempered glass, and come with a stylish genuine leather case.
Prestigio power banks are unique because they are based on graphene, a material with exceptional thermal conductivity and electron mobility that is safe for the environment. This means that the devices are resistant to high temperatures and charge several times faster than their counterparts. More specifically, the 10,000mAh Graphene PD model takes only 50 minutes to go from 0% to 100% battery charge (when using the 60W charger), while the 20,000mAh Graphene PD Pro charges in 100 minutes.
Both models have Type C and USB 3.0 ports, which allows you to charge several devices at the same time - tablets, smartphones, headphones, Bluetooth speakers and others. The Graphene PD Pro 20,000 mAh is capable of charging a PD-enabled laptop, and the Pass-Through function allows the power bank to charge the gadget even when it is charging itself. In addition to the amazing charging speed, users of this series will enjoy 10W wireless charging and universal compatibility with any device in the Qi standard (inductive charging).
Prestigio graphene power banks also have a multi-level, secure charging system that is fully compliant with all international standards.
Graphene PD models use the best materials of the highest quality: metal and tempered, polished glass. This is exactly the type of product that attracts the user not only with its technical specifications, but also with its elegant design. Their thoughtful housing includes a display with information about the current charge level and remaining battery life. As a nice bonus and extra protection, the devices come in a stylish genuine leather case.
The Graphene PD series power banks will be available for sale in September / October. Check with your ASBIS Manager for details.
About ASBISc Enterprises Plc
ASBISc Enterprises Plc is one of the leading distributors of IT industry products in the emerging markets of Europe, the Middle East and Africa (EMEA): Central and Eastern Europe, the Baltic republics, the former Soviet Union, the Middle East and North Africa, combining a wide range geographical operations with a wide portfolio of products distributed in the "one-stop-shop" model.
ASBISc Enterprises Plc is based in Cyprus and specializes in the distribution of computer hardware and software, mobile solutions, IT components and peripherals, and a wide range of IT products and digital equipment. The Company was established in 1990 and currently selling to 56 countries worldwide.
The Group distributes products of many vendors, and manufactures and sells own brands products: Prestigio (smartphones, tablets, external storage,, GPS devices, car-DVRs, multi-boards etc.), Canyon (power banks, networking products and other peripheral devices), Perenio ("IoT").
ASBIS has subsidiaries in 27 countries, close to 1,800 employees and about 20,000 customers. In 2019, sales exceeded USD 1.9 billion.
The Company's stock has been listed on the Warsaw Stock Exchange since October 2007 under the ticker symbol "ASB" (ASBIS).
For more information, also visit the Company's website www.asbis.com
About Prestigio
The international brand Prestigio has been offering a wide selection of electronics for home, education and business for more than 15 years.
Prestigio products: televisions, tablets, laptops, smartphones, mobile phones, DVRs, navigators, multiboards, interactive displays, electronic price tags and RFID-based technologies are being sold in 30 countries. In 2019, under the Prestigio brand, products such as the world's first touchpad on keyboard Click&Touch, charging station for Apple devices 3-in-1 wireless and smart speakers with voice assistant appeared on the market.
Production, design and technical centers are located in Europe, China and Belarus. Prestigio has operations in 15 countries, including the CIS, Europe, Africa and the Middle East. Prestigio is own by international ASBISc Enterprises Plc Group.
Company's website www.prestigio.com.