ASBISc Enterprises Plc, a leading distributor of IT products in the emerging markets of Europe, the Middle East and Africa, met the financial forecast for 2020 and achieved record-breaking financial results both in the fourth quarter and throughout 2020. Sales revenues in 2020 amounted to nearly USD 2.4 billion compared to over USD 1.9 billion in 2019, an increase of 24%. Net profit increased by 140% to USD 36.5 million, compared to USD 15.2 million in 2019.In the fourth quarter of 2020 stand-alone, ASBIS generated record-breaking quarterly financial results. Revenue for the period was USD 865.8 million (up 30% from Q4 2019), while net profit was USD 21.4 million, up 167% from the comparable period last year.
OTHER IMPORTANT EVENTS IN 2020:
In 2020, the FSU countries (54.5% share) and Central and Eastern Europe (24.3% share) had the largest share in the Group's revenues.
Poland has become a permanent member among the 10 countries with the highest revenues in the Group, taking the 8th place throughout the year with revenues of nearly USD 71.2 million (an increase of 43% compared to the same period last year).
ASBIS has met its upgraded forecast, as released on December 23rd 2020, which assumed revenues between USD 2.0 billion and USD 2.2 billion and net profit after tax between USD 32 million and USD 34 million.
On December 17, 2020, the Group has paid an interim dividend to its shareholders from 2020 profits of USD 0.10 per share (USD 5,550,000 in total).
The Group has signed new cooperation agreements with companies, including: Rakuten TV, Kemp Technologies, A10 Networks, Tintri, Bang & Olufsen, NVIDIA, HYPERVSN, MacPaw, TCL, Logitech, DELL.
ASBIS has acquired a 40% stake in CLEVETURA LLC and launched a unique, world's first intuitive Click & Touch keyboard based on the patented Touch on Keys technology. The project is currently under intense commercialization.
"The past year has been different in many ways," said Siarhei Kostevitch, CEO and Chairman of ASBISc Enterprises Plc. "It was also a year in which we were all forced to move most of our activities online, which initially resulted in increased expenses for equipment intended not only for work, but also for study and entertainment. It also released a large demand for IT equipment related to the expansion of communication networks, but also investments in the IT infrastructure itself. ASBIS, as usual, did not disappoint its customers and was able to fulfil orders within a specified period. Once again, we have proved that we can operate efficiently and flexibly, adjusting to the prevailing market circumstances."
Siarhei Kostevitch added: "2020 was a record year for us. And not only in terms of revenues, but also profits. We met our financial forecast, which was set at a high level. We are not slowing down at the moment. We are already working for another good year."
DETAILED SALES DATA
SALES BY REGION
The Former Soviet Union and Central & Eastern Europe regions traditionally have the largest share in the Group's revenues. This has not changed either in the fourth quarter of 2020 or throughout 2020. The FSU region's share of ASBIS's total revenues increased to 54.5% in 2020 from 53.5% in 2019.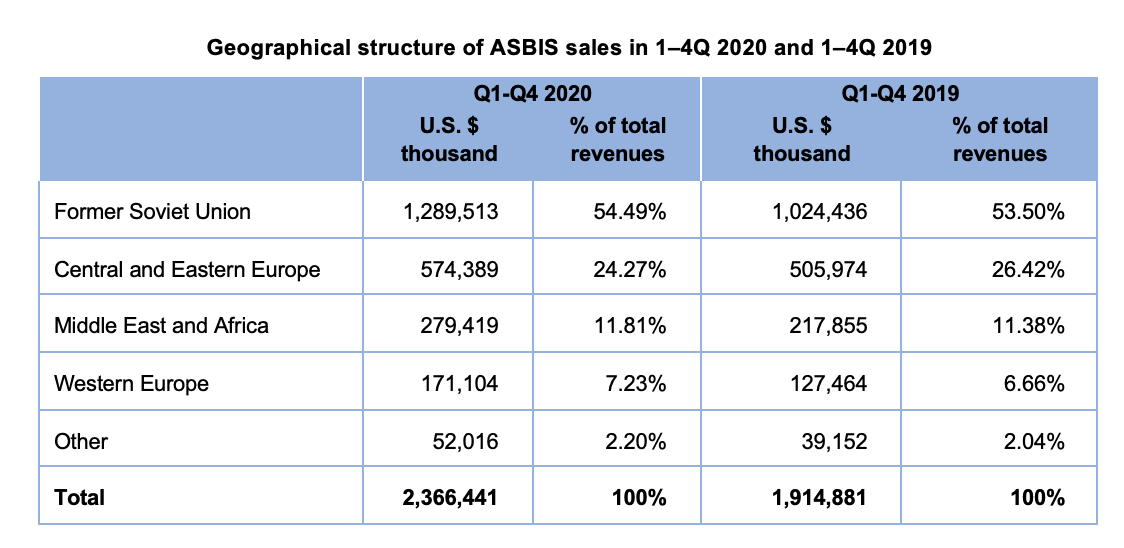 SALES BY COUNTRY
Country-by-country analysis confirms the excellent growth rates the Group was able to achieve in all major countries of operation.
The highest sales growth in 2020 was achieved by Poland, and the greatest growth factors were processors, SSDs and memory modules (RAM).
The countries with the highest sales growth in Q1-Q4 2020 were:·
Poland – growth by 42.9%·
Kazakhstan – growth by 41.9%
United Arab Emirates – growth by 26.2%·
Russia – growth by 23.4%·
Belarus – growth by 18.3%
Ukraine – growth by 13.4%
Czech – growth by 10.5%.
The increase in FSU sales was mainly generated by sales of new Apple products and business projects.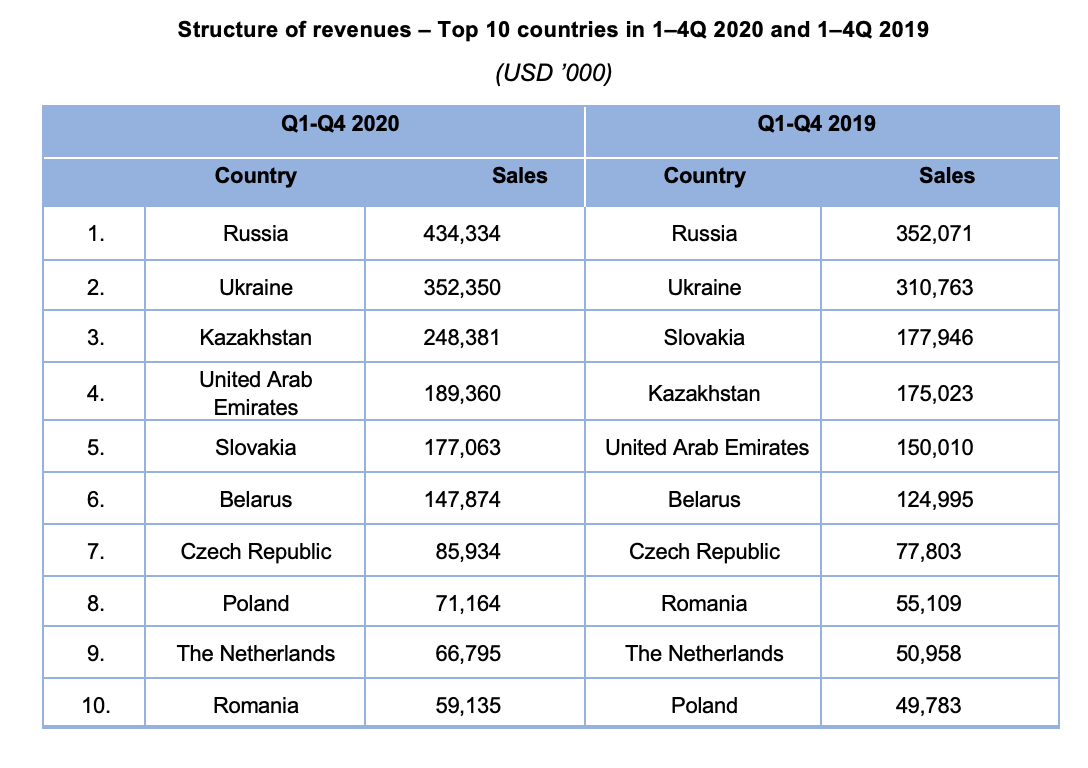 For additional information, please contact:
Iwona Mojsiuszko
8Sense Public Relations
Tel. +48 502 344 992
E-mail iwona.mojsiuszko@8sensepr.pl
About ASBISc Enterprises Plc

ASBISc Enterprises Plc is one of the leading distributors of IT industry products in the emerging markets of Europe, the Middle East and Africa (EMEA): Central and Eastern Europe, the Baltic republics, the former Soviet Union, the Middle East and North Africa, combining a wide range geographical operations with a wide portfolio of products distributed in the "one-stop-shop" model.

ASBISc Enterprises Plc is based in Cyprus and specializes in the distribution of computer hardware and software, mobile solutions, IT components and peripherals, and a wide range of IT products and digital equipment. The Company was established in 1990 and currently selling to 56 countries worldwide.

The Group distributes products of many vendors, and manufactures and sells own brands products: Prestigio (tablets, external storage, GPS devices, car-DVRs, multi-boards etc.), Canyon (power banks, networking products and other peripheral devices) and Perenio ("IoT").

ASBIS has subsidiaries in 27 countries, more than 1,800 employees and about 20,000 customers. In 2019, sales exceeded USD 1.9 billion.

The Company's stock has been listed on the Warsaw Stock Exchange since October 2007 under the ticker symbol "ASB" (ASBIS).
For more information, also visit the Company's website at www.asbis.com or investor.asbis.com