ASBISc Enterprises Plc, a leading distributor of IT products in the emerging markets of Europe, the Middle East and Africa, generated outstanding financial results both in the three quarters of this year and in the third quarter of 2020 stand-alone. Sales revenues for Q1-Q3 2020 exceeded USD 1.5 billion compared to close to USD 1.3 billion in the same period last year, an increase of 20%. Net profit doubled during this period to USD 15.1 million, compared to USD 7.2 million in Q1-Q3 2019.
In the third quarter of 2020 stand-alone, ASBIS significantly improved both revenues and profits. Revenues were USD 619.7 million (up 34% compared to Q3 2019), while net profit was USD 10.4 million, up 126% over the comparable period last year.
ASBIS remains the distributor of first choice for many global IT producers, and the Group's strategy is to generate the best possible results for its shareholders. In the first three quarters of 2020, the countries of the Former Soviet Union (over 53% share) and Central and Eastern Europe (nearly 26% share) had the largest share in the Group's revenues. The largest country in terms of revenues generated in Q1-Q3 2020 was Russia.
Poland has already become a permanent fixture among the 10 countries with the highest revenues in the Group, taking the 9th place in Q1-Q3 2020 with revenues of over USD 46.1 million (an increase by 82% compared to the same period last year).
On October 22, 2020, the Group increased its net profit forecast for 2020 published on August 11th. ASBIS expects sales revenues in 2020 to be between USD 2 billion and USD 2.2 billion, while net profit after the increase is expected between USD 23 million and USD 25 million.
On 4 November 2020, the Board of Directors of the Company decided to pay out an interim dividend from the Company's 2020 profits of USD 5,550,000.00. All 55,500,000 of Company's shares are eligible for the interim dividend, which represents a USD 0.10 per share payout. The record date for the shareholders to receive this dividend was set on 7 December 2020 and the payment date on 17 December 2020.
"This year is different and special in many ways. For the first time in history, we have all been forced to bring most of our activities online," said Siarhei Kostevitch, CEO and Chairman of ASBISc Enterprises Plc. "This means increased purchases for equipment dedicated not only for work, but also for study and entertainment. Therefore, it is also a time when companies specializing in the sale or production of equipment intended for creating and sharing information are doing very well. ASBIS definitely belongs to this group. Thanks to an effective strategy and efficient management, we were able to quickly adapt to the changing market conditions, which is why our situation is currently very good, and our results are expected to be record-breaking this year."
Siarhei Kostevitch added: "The hottest period in our industry, the fourth quarter, has already started. We are very well prepared for it. We develop not only classic IT distribution, but also the ESD (Electronic Software Distribution) segment; an example of the latter were the contracts we have recently concluded with Rakuten TV, MobiSystems and MacPaw. We are also introducing new products and signing new distribution agreements, such as the recently signed agreement for the distribution of Logitech products in Russia. We are also developing a network of online stores for both end-customers and business customers. Already now 60% of transactions take place on-line. We operate dynamically and take advantage of all market opportunities that are profitable for ASBIS and its shareholders."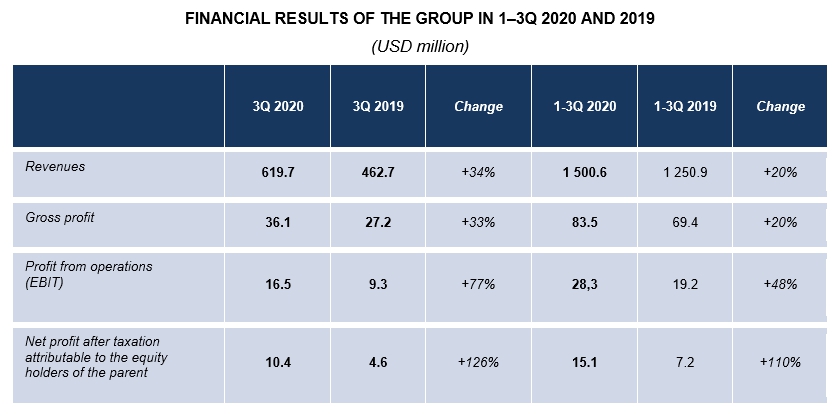 DETAILED SALES DATA
SALES BY REGION
The Former Soviet Union and Central & Eastern Europe regions traditionally have the largest share in the Group's revenues. This has not changed in Q3 2020 or the nine-month period of 2020. The FSU region's share in total ASBIS revenues increased to 55.03% in Q3 2020 from 52.21% in Q3 2019 and to 53.21% in the nine-month period of 2020 from 51.29% in the corresponding period of 2019.

SALES BY COUNTRY
Country-by-country analysis confirms the excellent growth rates the Group was able to achieve in all major countries of operation. The countries with the highest sales growth in Q1-Q3 2020 were:
Poland – growth of nearly 81.6%
The Netherlands – growth by 70.2%
Kazakhstan – growth of 45.1%
Belarus – growth of 31.8%
Ukraine – growth of 16.8%
Russia – growth of 16.6%.
Sales in the Middle East and Africa region, the result of which depends mainly on revenues in the GCC countries (United Arab Emirates, Saudi Arabia, Bahrain, Qatar, Kuwait), increased by 36.7% in Q3 2020 compared to Q3 2019 and by 12.5% in the first nine months of 2020 compared to the same period last year.
Sales in Western Europe increased both in the third quarter of 2020 and for the nine months of 2020 by 54.2% and 12.5% respectively, compared to the corresponding periods of 2019.
For additional information, please contact:
Iwona Mojsiuszko
8Sense Public Relations
Tel. +48 502 344 992
E-mail iwona.mojsiuszko@8sensepr.pl
About ASBISc Enterprises Plc
ASBISc Enterprises Plc is one of the leading distributors of IT industry products in the emerging markets of Europe, the Middle East and Africa (EMEA): Central and Eastern Europe, the Baltic republics, the former Soviet Union, the Middle East and North Africa, combining a wide range geographical operations with a wide portfolio of products distributed in the "one-stop-shop" model.

ASBISc Enterprises Plc is based in Cyprus and specializes in the distribution of computer hardware and software, mobile solutions, IT components and peripherals, and a wide range of IT products and digital equipment. The Company was established in 1990 and currently selling to 56 countries worldwide.

The Group distributes products of many vendors, and manufactures and sells own brands products: Prestigio (tablets, external storage, GPS devices, car-DVRs, multi-boards etc.), Canyon (power banks, networking products and other peripheral devices), Perenio ("IoT").

ASBIS has subsidiaries in 27 countries, close to 1,800 employees and about 20,000 customers. In 2019, sales exceeded USD 1.9 billion.

The Company's stock has been listed on the Warsaw Stock Exchange since October 2007 under the ticker symbol "ASB" (ASBIS).
For more information, also visit the Company's website www.asbis.com