PRESS RELEASE - 24 February 2022; Limassol, Cyprus, and Warsaw, Poland
ASBISc Enterprises Plc, a leading distributor of IT products in the emerging markets of Europe, the Middle East and Africa, achieved record-breaking financial results both in the fourth quarter and throughout 2021. Sales revenues in 2021 exceeded the USD 3 billion mark for the first time and amounted to nearly USD 3.1 billion, compared to USD 2.4 billion in 2020, an increase of 30%. At the same time net profit doubled to USD 77.1 million, compared to USD 36.5 million in 2020.
In the fourth quarter of 2021 stand-alone, ASBIS generated record quarterly financial results. Revenue for the period was USD 948 million (up 10% compared to the very good Q4 2020), while net profit was USD 28.7 million, an increase of 34% over the comparable period last year.
OTHER IMPORTANT EVENTS IN 2021:
In 2021, the FSU countries (57.7% share) and Central and Eastern Europe (21% share) had the largest share in the Group's revenues.
Poland has become a permanent member among the 10 countries with the highest revenues in the Group, taking the 9th place throughout the year with revenues of nearly USD 78 million (an increase of 9.6% compared to the same period last year).
ASBIS met and exceeded its increased financial forecast for 2021 announced on August 25th, 2021, which assumed revenues between USD 2.9 billion and USD 3.1 billion and net profit after tax between USD 71 million and USD 74 million
On December 2nd, 2021, the Group has paid an interim dividend to its shareholders from 2021 profits of USD 0.20 per share (USD 11,100,000 in total).
The Group has signed new cooperation agreements, strengthening its VAD offer, including: NIVIDIA, VERTIV, Stratus.
ASBIS has launched a new company in the smartphone sector BREEZY, launched two own brands – AENO and LORGAR and invested in EMBIO Diagnostics.
"We have ended 2021, a record year for ASBIS," said Serhei Kostevitch, CEO of ASBIS Group. "For the first time in our 30-year history, we exceeded USD 3 billion in revenues and generated the highest profits in our history. The market environment was not so favourable for us, but we managed perfectly. These results also confirm our very good product portfolio and focus on VAD projects, which are characterized, among others, by higher than classical distribution margins. This year also started very well, we have beaten last year's record in January in terms of revenues. The geopolitical situation is currently difficult, but we have extensive experience in operating in this region of the world, we have prepared ourselves emanating from past experience and knowledge of the markets. We follow the situation on our markets on an ongoing basis and we are prepared even for very difficult scenarios. It is important for us that we see a growth opportunity in 2022 and we want to take advantage of it."
Serhei Kostevitch added: "The IT market is developing very dynamically, we want to be part of the growth of this market. We already have a leading position in most of our markets, we plan to continue growing in 2022. We intend to further develop our distribution network and our own brands, and open another 4 Apple stores and 3 MonoBrand stores. We are also thinking about a greater diversification of the business by investing in companies or developing ideas that are in line with our DNA and can significantly strengthen the ASBIS offer in the future. We are already working for another good year and years to come."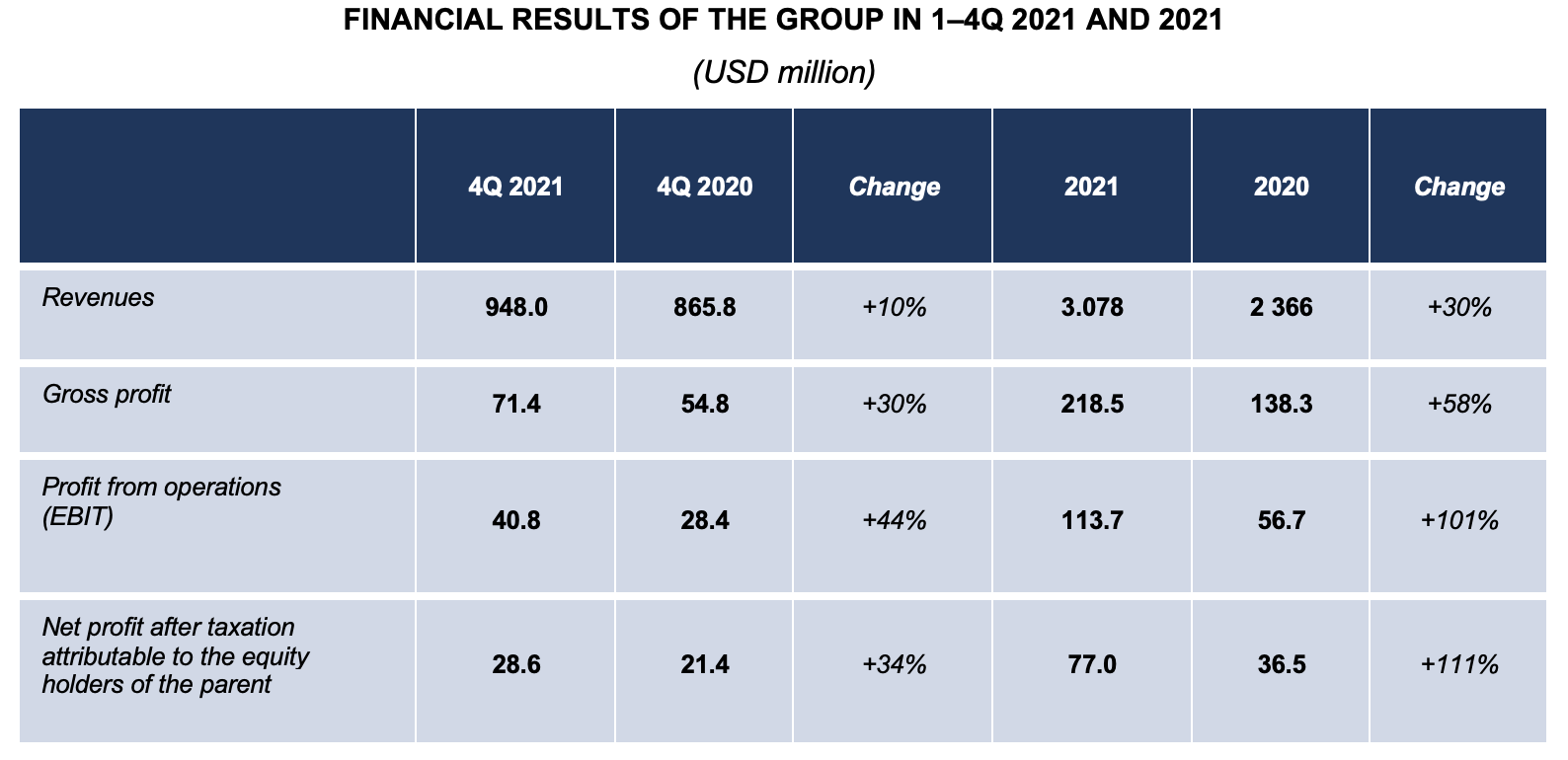 DETAILED SALES DATA
SALES BY REGION
The Former Soviet Union and Central & Eastern Europe regions traditionally have the largest share in the Group's revenues. This has not changed either in the fourth quarter of 2021 or throughout 2021. The FSU region's share of ASBIS's total revenues increased to 57.7% in 2021 from 54.5% in 2020.
Geographical structure of ASBIS sales in 2021 and 2020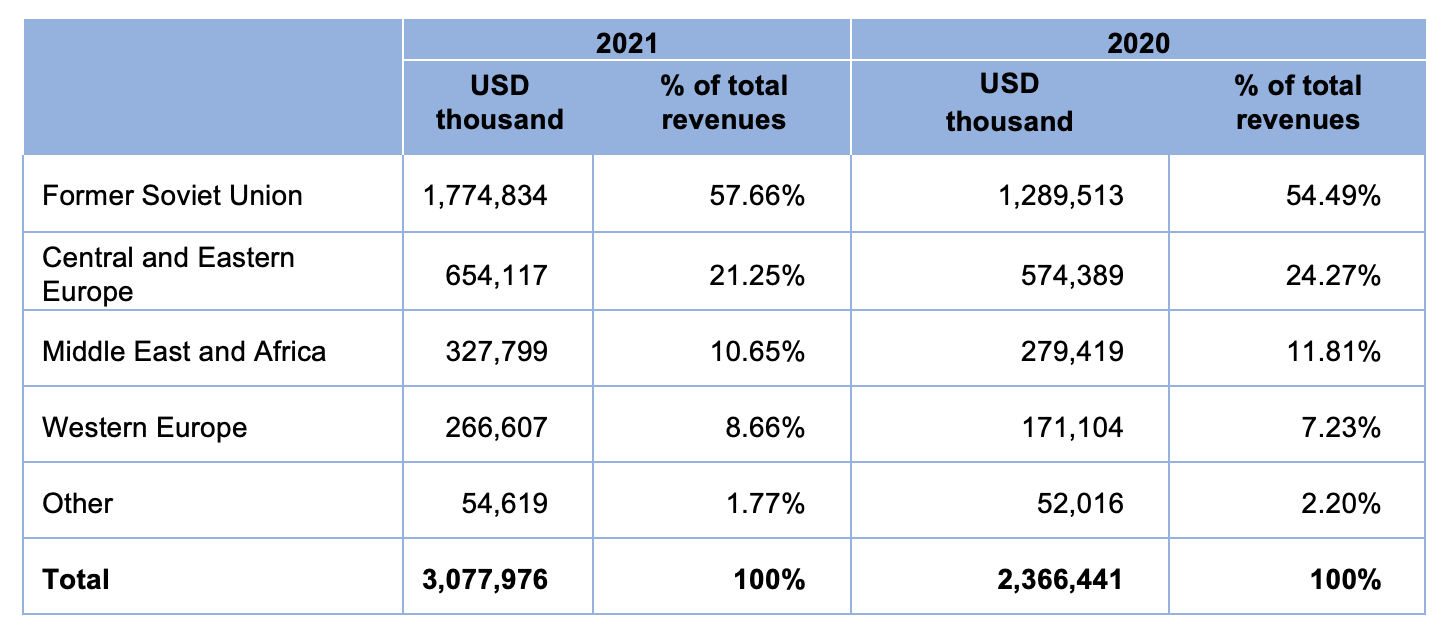 SALES BY COUNTRY
Country-by-country analysis confirms the excellent growth rates the Group was able to achieve in all major countries of operation. Kazakhstan generated the highest revenue dynamics in 2021.
The countries with the highest sales growth in Q1-Q4 2021 were:
Kazakhstan - increase by 54.3%
Ukraine - increase by 34.9%
Russia - increase by 32.5%
Belarus - increase by 28.5%
Czech Republic - increase by 25.2%
Netherlands - increase by 17.9%
United Arab Emirates - increase by 16.1%
Slovakia - increase by 11.7%.
The FSU sales growth was mainly generated by new Apple product sales and Value Added Distribution (VAD) business projects.
Sales in Western Europe increased by 55.8% in 2021 compared to 2020.
Poland recorded an increase in revenues both in the fourth quarter of 2021 and in the entire 2021 (increase by 2.2% and 9.6%, respectively). The increase in sales in Poland was mainly due to the sale of processors, graphics cards and software.
Structure of revenues – Top 10 countries in 2021 and 2020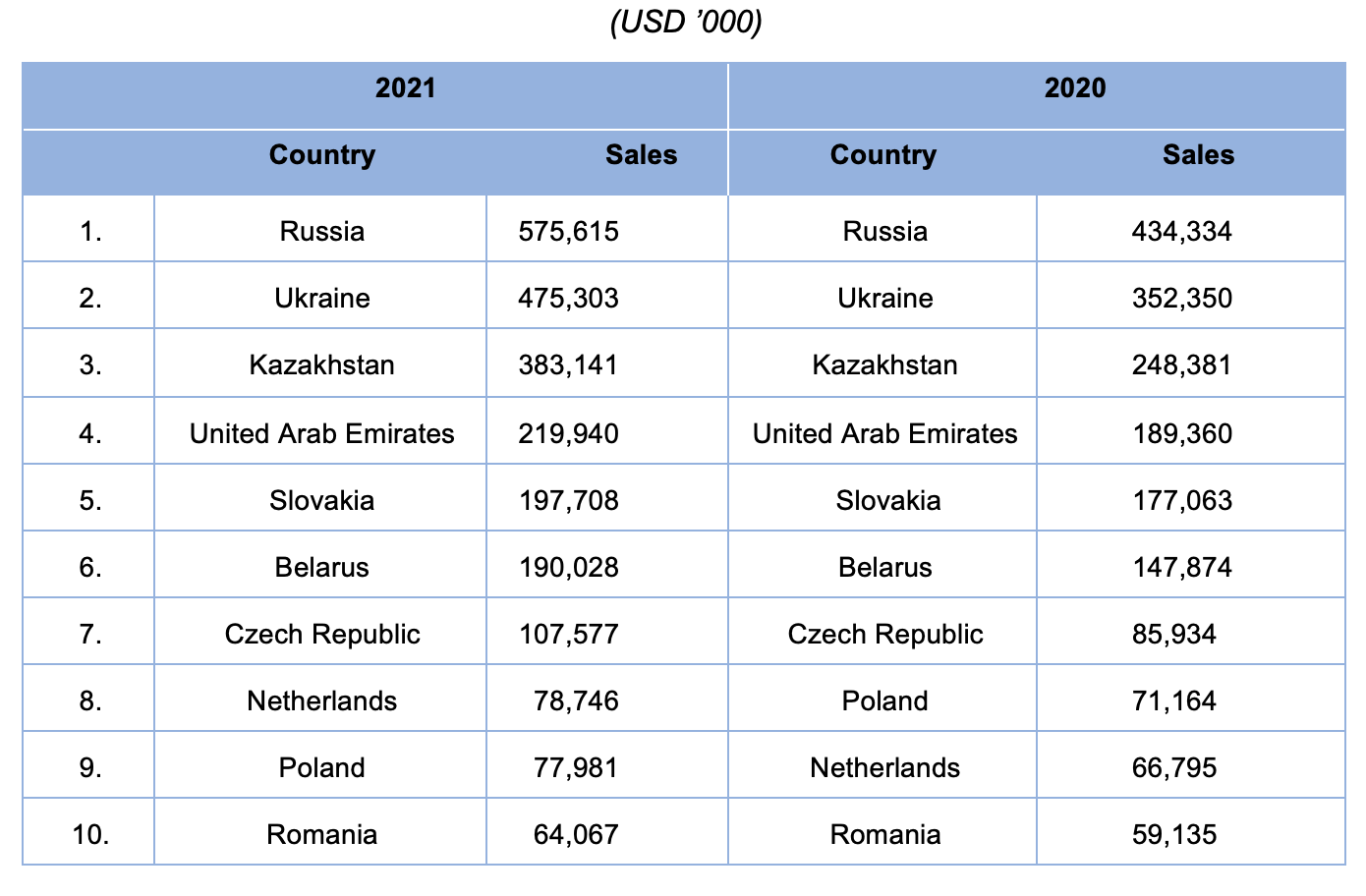 For additional information, please contact:
Iwona Mojsiuszko
8Sense Public Relations
Tel. +48 502 344 992
E-mail iwona.mojsiuszko@8sensepr.pl
About ASBISc Enterprises Plc
ASBIS Group is a leading Value Add Distributor, developer and provider of IT, IoT products, solutions and services to the markets of Europe, the Middle East and Africa (EMEA) with local operations in Central and Eastern Europe, the Baltic republics, the former Soviet Union, the Middle East and North Africa.
The business of ASBIS is based on three pillars:
1. Distribution of hardware and software for Client Computing and Data Centers, consumer electronics thru:
a. Retail chains and e-tailers
b. Resellers to small and medium business
c. Large enterprises.
2. Full stack in creation of world class products. From scientific research and development to design and engineering, firmware and software, production and marketing of IT and IoT products and solutions via own brands:
a. Prestigio (smart devices and accessories, innovative solutions for business and education, etc.)
b. Canyon (smart watches, power banks, accessories for computers and mobile devices)
c. Perenio (IoT platform, IoT routers, applications and peripherals for smart office/ home, smart health).
d. Aeno (small home appliances).
3. Complex solutions sales projects to large enterprises via extensive networks of System Integrators and Value Add Resellers.

ASBIS was founded in 1990 in Belarus, since 1995 operates from Cyprus. Company has two master distribution centers located in the Czech Republic and in the United Arab Emirates, subsidiaries in 27 countries, more than 2,000 employees and about, 20 000 active customers in 56 countries worldwide. In 2021, the Group delivered sales of close to USD 3.1 billion.
The Company's stock has been listed on the Warsaw Stock Exchange since October 2007 under the ticker symbol "ASB" (ASBIS).
For more news and information visit: www.asbis.com