Limassol, Cyprus, 8th August 2018 - ASBISc Enterprises Plc, a leading distributor of IT products in the emerging markets of Europe, the Middle East and Africa, generated a high double-digit growth in its financial results in the 1st half of 2018. Sales revenues in the period were USD 966.2 million, compared to USD 570.3 in the 1st half of last year—an increase of over 69%. In 1H 2018 gross profit grew by nearly 43%, to USD 43.2 million, from USD 30.2 million in 1H 2017. Net profit nearly tripled, to USD 2.9 million, from USD 1.0 million in 1H 2017.
The Group's strategy is to generate the best possible results for its shareholders. In the 1st half of 2018 all product lines increased their sales in all countries where the Company operates. Traditionally, the greatest share in the Group's revenue has been in the Former Soviet Union and Central & Eastern Europe. All of the key product lines noted significant sales growth compared to 1H 2017. The driver of the greatest sales increases in the period was sales of smartphones, which have increased of nearly 171% from 1H 2017. Among other product lines, in 1H 2018 the Company observed a positive trend in sales of Mainboards and Graphic Cards (an increase of 182.8%)
ASBIS is continuing to focus on its own brands Prestigio and Canyon on all markets it operates in. The Group has also introduced its third private label, Perenio, operating in the segment of the Internet of Things ("IoT").
On 27 March 2018 the Group published its financial forecast for 2018, with projected revenues between USD 1.80 and 1.90 billion and net profit after tax between USD 9 and 10 million. Following publication of the 1H 2018 results, ASBIS fully sustains its financial forecast.
On 12 June 2018. the Group distributed a dividend to shareholders of USD 0.06 per share (total amount USD 3,330,000).
"The first half this year was very successful for us," said Siarhei Kostevitch, CEO and Chairman of ASBISc Enterprises Plc. "Each month we have generated double-digit growth in revenues, which in effect enabled us to achieve a nearly 70% growth in revenues in the 1st half of the year. Meanwhile, our profit in this period has tripled to nearly USD 3 million. Looking at the results for the 1st half of the year and considering that in our industry the best results are generated in the 2nd half of the year, we currently believe that our 2018 forecast published in March is an achievable one."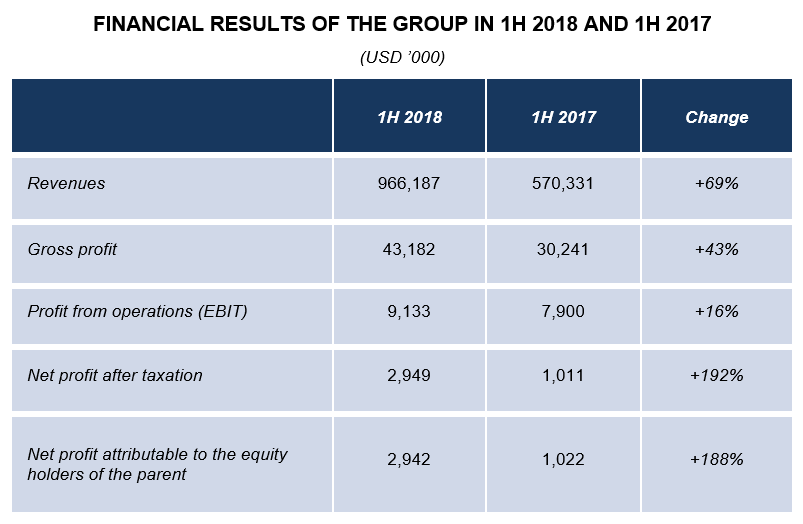 DETAILED SALES DATA
Siarhei Kostevitch commented: "The past half-year has not brought any surprises in our breakdown of revenue by specific regions; traditionally, the largest regions have been the Former Soviet Union and Central & Eastern Europe. This is a consequence of our focus on these markets, which we know quite well, and our strong market position in these regions that is steadily being reinforced. In this half-year, sales in FSU countries constituted nearly half of our total revenues."
SALES BY REGION
The Group's focus on the countries of the Former Soviet Union has not negatively impacted sales in other regions. Sales in markets of Central & Eastern Europe have increased by 55%, similar to sales in the Middle East & Africa (up 51%), on a year-on-year basis. In 1H 2018, the Group also significantly improved its sales in Western Europe, with an increase of 82% year-on-year.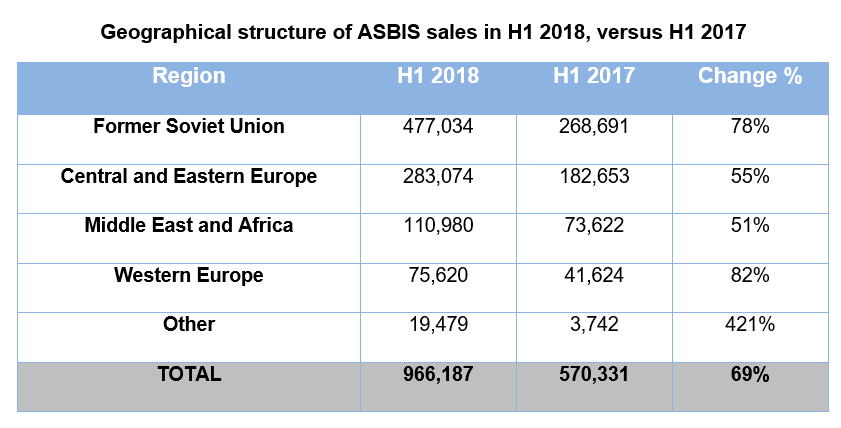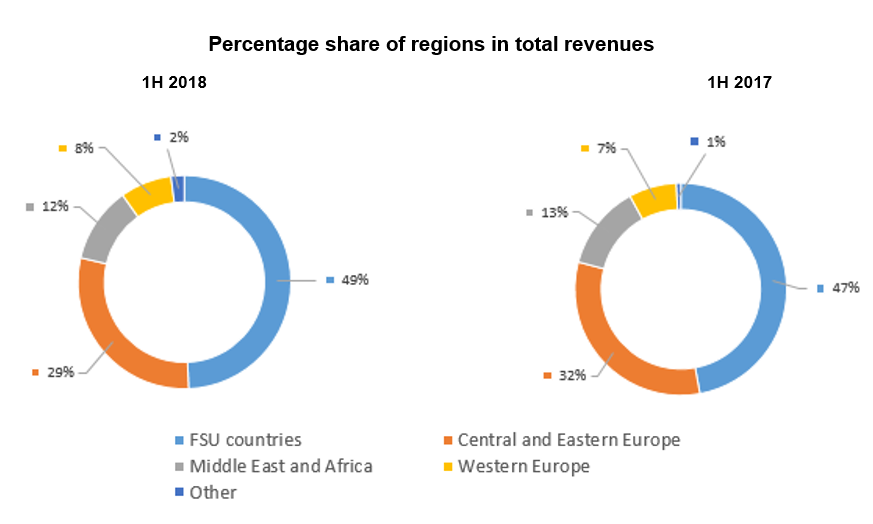 SALES BY COUNTRY
A country-by-country analysis confirms the very good growth figures which the Group generated in all its main countries of operation. The continuous improvement in the situation in Russia had a positive impact on the situation of the Former Soviet Union region. Among other markets, ASBIS generated an increase in revenue in the 1st half of 2018, as compared to the same period of 2017, in the following countries of the Former Soviet Union:
Russia, up 55%
Ukraine, up 117%
Kazakhstan, up 66%
Belarus, up 86%.
Meanwhile, a 29% year-on-year growth in revenue in Slovakia was accompanied by a 25% growth in the Czech Republic and a 28% in Romania. The result in the Middle East & Africa is driven mainly by the revenue generated in the United Arab Emirates, where the Group generated a 69% growth.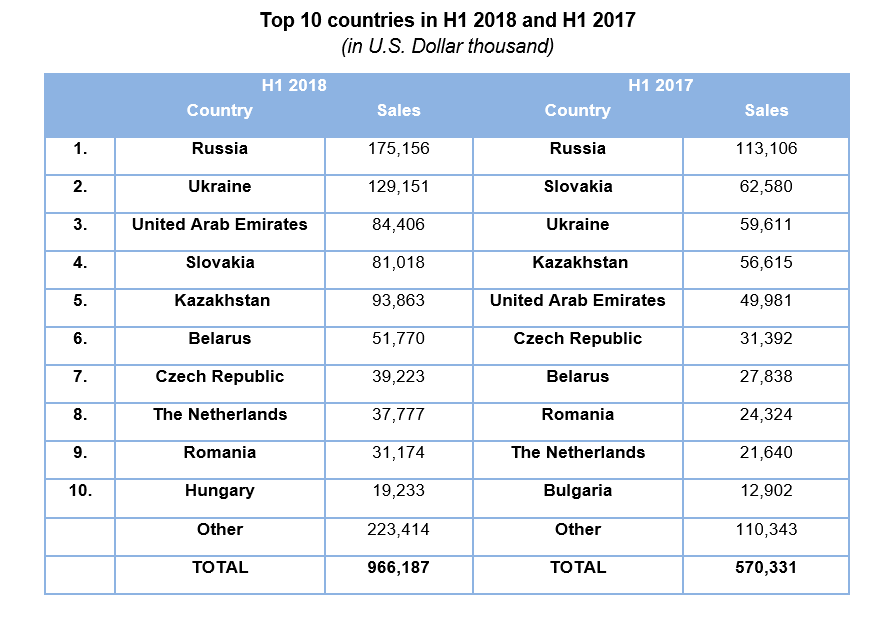 SALES BY PRODUCT LINE
The 1st half of 2018 demonstrated that ASBIS has no difficulty in generating high sales revenue when markets are stable. All of the main product lines achieved significant sales growth compared to 1H 2017. Sales growth in 1H 2018 was driven by smartphones (+170.9%), CPUs (+10.0%), HDDs (+18.3%), laptops (+42.1%), SSDs (+48.7%), while sales of typical components were relatively stable year-on-year.
Among other product lines, the Company showed a positive trend in 1H 2018 in sales of motherboards and graphics cards (+182.8%), accessories and multimedia (+88.4%), and memory modules (+62.6%).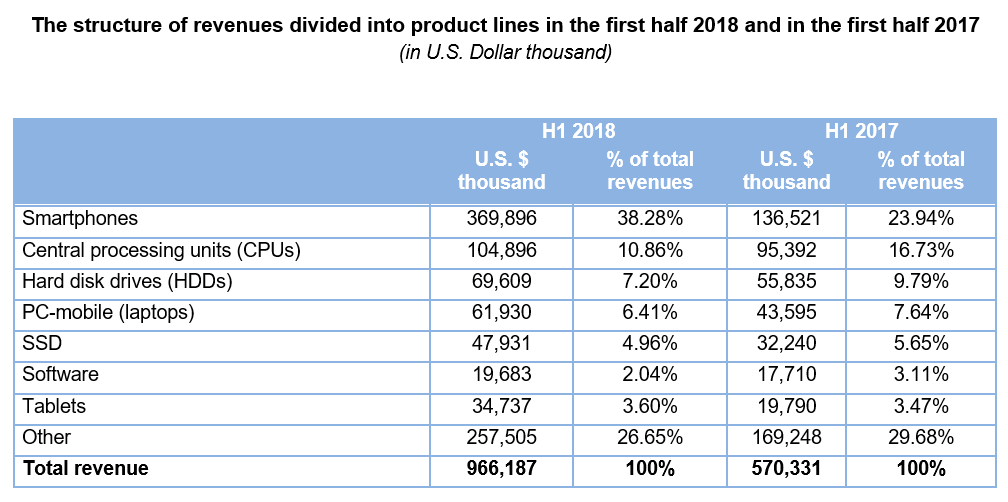 For additional information, please contact:
Iwona Mojsiuszko
8Sense Public Relations
Tel. +48 502 344 992
E-mail iwona.mojsiuszko@8sensepr.pl
About ASBISc Enterprises Plc
ASBISc Enterprises Plc is one of the leading distributors of IT industry products in the emerging markets of Europe, the Middle East and Africa (EMEA): Central and Eastern Europe, the Baltic republics, the former Soviet Union, the Middle East and North Africa, combining a wide range geographical operations with a wide portfolio of products distributed in the "one-stop-shop" model.
ASBISc Enterprises Plc is based in Cyprus and specializes in the distribution of computer hardware and software, mobile solutions, IT components and peripherals, and a wide range of IT products and digital equipment. The Company was established in 1990, selling to 60 countries worldwide currently.
The Group distributes products of many vendors, and manufactures and sells private-label products: Prestigio (smartphones, tablets, external storage, leather-coated USB accessories, GPS devices, Car-DVRs, Multi-boards etc.) and Canyon (MP3 players, networking products and other peripheral devices).
ASBIS has subsidiaries in 24 countries, about 1,300 employees and 30,000 customers.
The Company's stock has been listed on the Warsaw Stock Exchange since October 2007 under the ticker symbol "ASB" (ASBIS).
For more information, also visit the company's website at www.asbis.com or investor.asbis.com