Limassol, Cyprus, 9 May 2018 - ASBISc Enterprises Plc, a leading distributor of IT products in the emerging markets of Europe, the Middle East and Africa, recorded a dynamic increase in financial results in the first quarter of 2018. Sales revenues in the period amounted to USD 503.3 million compared to USD 290.2 million in 1Q 2017, an increase of 73%. In 1Q 2018, gross profit on sales increased by 50% to USD 22.8 million, from USD 15.1 million in 1Q 2017. Operating profit (EBIT) increased in the first quarter of 2018 by 34% to USD 5.3 million, from USD 4 million a year earlier, while net profit more than tripled, to USD 1.7 million, from USD 551,000 in the first quarter of 2017.
The Group's strategy is to deliver best results for its shareholders. In the first quarter 2018 all major product lines increased their sales in all countries of operations. Additionally, in 1Q2018, ASBIS managed to fulfil very large orders for the supply of IT products, which combined with the continuous demand for Company's enhanced portfolio through the leading industry manufacturers, allowed for the delivery of such growth rates. ASBIS also continues development of its own Prestigio and Canyon brands in all regions of its operations. The Group has invested in a VAD Business Unit and launched the Perenio brand (internet of things), which are expected to bring higher gross profit margins.
On 27 March 2018 the Company announced its official financial forecast for 2018, with projected revenues between USD 1.80 and 1.90 billion and net profit between USD 9 and 10 million. Following publication of the Q1 2018 results, ASBIS sustains this forecast.
On 27 March 2018 the Company's Board of Directors announced its decision to recommend to the forthcoming Annual General Meeting of Shareholders the payment of a dividend on Y2017 results. The Board of Directors will recommend to the AGM to pay USD 0.06 per share, for a total of USD 3,330,000. On 8th May 2018 the AGM decided on the dividend payment on the level recommended by the Board of Directors. The dividend day was set on 17 May 2018, the date of dividend payment on 12 June 2018.
Siarhei Kostevitch, CEO and Chairman of ASBISc Enterprises Plc, commented: "Each month in the 1st quarter of 2018 we generated high, double-digit growth in revenue. For us it was a period of intense work on further improvement in the Group's profitability, which is our priority. Thanks to the hard work of the whole team and continuation of our tested strategy, we generated an increase in sales of over 70% and more than tripled the net profit. This shows that we are in excellent condition to meet the challenges we face in the current year. Looking at the results of the 1st quarter of this year, we believe that barring any disadvantageous factors, we will achieve our forecast for 2018 published in March."
He added: "After the publication of the financial results for the first quarter of this year, we see that not only the current situation of the Group is very good, but also our future looks very positively. We are expanding our portfolio of private brands, which enables us to achieve higher margins and be close to any technological innovations. Our existing Prestigio and Canyon brands have been joined by Perenio, which will cover products connected to the dynamically growing segment - internet of things. Very important to us are also relations with our suppliers - we invest in them and ensuring that our goals are constantly aligned."
FINANCIAL RESULTS IN Q1 2018 AND Q1 2017
(USD million)
Constantinos Tziamalis, Investor Relations and Credit Director of ASBISc Enterprises Plc, commented: "We have a very successful quarter behind us. ASBIS has showed the ability to capitalize on opportunities granted and managed to achieve significant amounts growth rates in both revenues and profitability. The company has proven that is able to adopt to the competitive environment around as well as changing market conditions, which gives us the basis for an optimistic view for the future. We are still focusing on profitability and taking all opportunities presented to the Company."
DETAILED INFORMATION ON SALES PROFILE – SALES IN REGIONS
According to Siarhei Kostevitch, "The Former Soviet Union and Central & Eastern Europe regions traditionally contribute the majority of our revenues. However, our focus on the FSU region allowed continuation of the very good performance and showed an impressive 80% growth year-on-year. Following that, the FSU share in our total revenues grew to more than 50%, from 48% in Q1 2017. ASBIS continues to strengthen its market position in this region of the world."
Despite a focus on the FSU region, the Group's sales in other regions experienced similarly strong growth rates. Sales in the CEE region increased by an impressive 75% in Q1 2018 as compared to Q1 2017. Sales in Western Europe in Q1 2018 also increased by 66%, coupled with an increase of 29% in the MEA region, compared to Q1 2017.
The table below provides a geographical breakdown of sales in the three months ended 31 March 2018 and in 2017.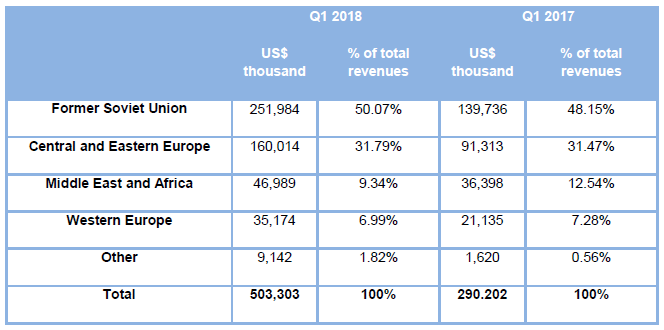 DETAILED INFORMATION ON SALES PROFILE – SALES BY COUNTRIES
A country-by-country analysis confirms the excellent growth rates the Group was able to achieve in all major countries of operations. Russia was number one in revenues, with a growth rate at 35%, but all three other main countries of the FSU region (Ukraine, Kazakhstan and Belarus) experienced a 100%+ growth rate.
The 24% increase in sales in Slovakia was combined with 60% growth in the Czech Republic, and 53% growth in Romania, leading to growth in CEE as a whole. The MEA region grew at a pace of 60% mainly because of the enhanced product portfolio of the local subsidiary.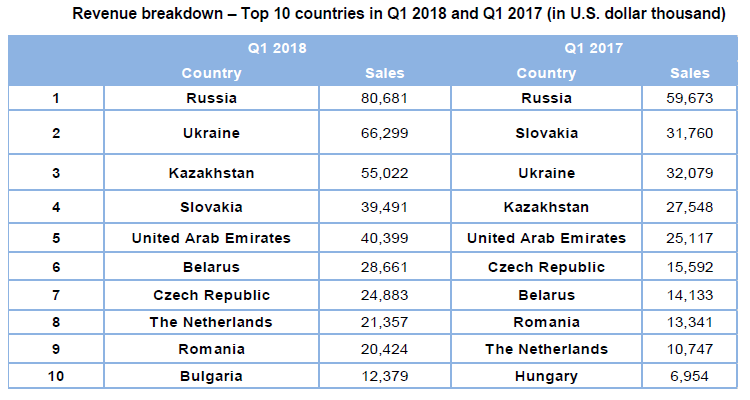 DETAILED INFORMATION ON SALES PROFILE – SALES BY PRODUCT LINES
1Q 2018 has proven that ASBIS Group has no issue in significantly raising its revenues when the markets are stable. During this time, all major product lines of the Group grew significantly. The champion of revenues per product group, for one more quarter, was smartphones, with an immense 163% growth.
The table below shows the breakdown of revenues by product lines for Q1 2018 and Q1 2017 (USD '000):

For additional information, please contact:
Iwona Mojsiuszko
8Sense Public Relations
Tel. +48 502 344 992
E-mail iwona.mojsiuszko@8sensepr.pl
ASBISc Enterprises Plc is one of the leading distributors of Information Technology ("IT") products in Europe, Middle East and Africa ("EMEA") Emerging Markets: Central and Eastern Europe, the Baltic States, the Former Soviet Union, the Middle East and Africa, combining a broad geographical reach with a wide range of products distributed on a "one-stop-shop" basis.
The Group distributes IT components (to assemblers, system integrators, local brands and retail) as well as A-branded finished products like desktop PCs, laptops, servers, and networking to SMB and retail. Group's IT product portfolio encompasses a wide range of IT components, blocks and peripherals, and mobile IT systems. We currently purchase the majority of our products from leading international manufacturers, and, in addition, has portfolio of own brands – Prestigio, Canyon and Perenio.
ASBIS has subsidiaries in 24 countries, about 1,100 employees and 32,000 customers.
The Company's stock has been listed on the Warsaw Stock Exchange since October 2007 under the ticker symbol "ASB" (ASBIS).
For more information, also visit the company's website at www.asbis.com or investor.asbis.com