ASBIS IS DELIVERING ITS PROMISES AND STRENGTHENING PROFITABILITY, EXPANDING ITS PRODUCT LINES AND COMPETENCIES IN THE CORPORATE SERVICES SECTOR
ASBISc Enterprises Plc, a leading distributor of IT products in the emerging markets of Europe, the Middle East and Africa, and manufacturer of the Prestigio, Canyon, Perenio and Atlantech brands, achieved good financial results in the 1st half of 2019, in line with expectations. Sales revenues in the period were USD 788.2 million, gross profit USD 42.2 million, and net profit USD 2.6 million. The Group maintained the positive trend in growth of gross margins visible in the preceding periods. In 1H 2019 the gross margin was 5.35% (up from 4.47% a year before).
Consistent with its declarations, in the 1st half of 2019 ASBIS focused on business generating higher margins, i.e. value-added distribution (VAD) and own brands, both segments of the IT market, corporate and consumer. ASBIS launched the world's first intuitive keyboard Prestigio Click & Touch, combining the features of a classic keyboard, a touchpad and a mouse. Continuing its strategy, in July 2019 the Group acquired for USD 574,000 the market-leading Belarusian company AVECTIS, greatly reinforcing its competencies in the segment of corporate IT services.
The Group published its financial forecast for 2019 on 27 March 2019. It calls for revenue between USD 1.7 and 1.9 billion and net profit after taxation between USD 8.5 and 10 million. Following publication of its financial results for the 1st half of the year, ASBIS maintains its published financial forecast.
The Group paid shareholders a final dividend out of the profit for 2018 in the amount of USD 0.10 per share (a total of USD 5,550,000).
"The IT market is changing very rapidly," said Siarhei Kostevitch, CEO and Chairman of ASBISc Enterprises Plc. "Observing these changes, we intend to fluidly revise our operating model. Our ambition is to achieve the position of a leading value-added distributor of IT, manufacturer of IT equipment, and supplier of services in the area of IT, the internet of things, and artificial intelligence. That's why we are currently focusing on growth of our portfolio in this area and strengthening ASBIS's competencies in the corporate services sector. Our recent measures, namely launching of the Prestigio Click & Touch keyboard and acquisition of AVECTIS, are the first steps on this path."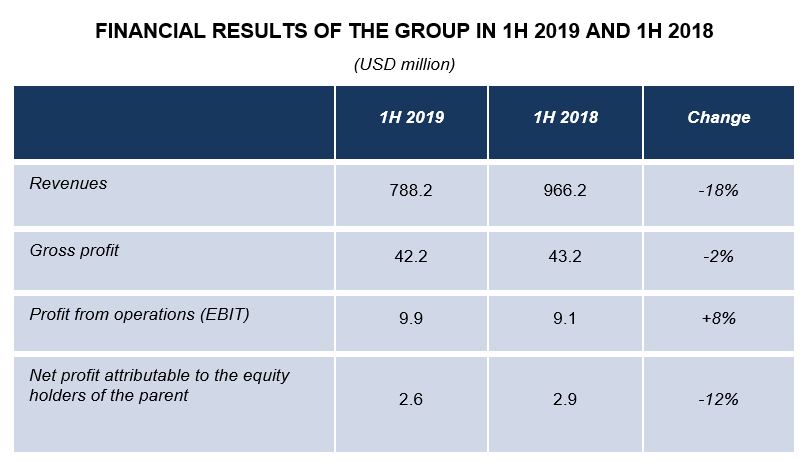 Siarhei Kostevitch, CEO and Chairman of ASBISc Enterprises Plc, commented: "Last year was record-setting in ASBIS's history, and this resulted not only from our intense work, but also from several external factors, including greater demand for certain product groups from our range. This year, in line with our expectations and published forecast, we are setting the base and new fundamentals for the future, The financial results of H1 2019 leave us totally satisfied since we have achieved what we aimed and despite the very high base of last year, our net income is almost similar to last year's. Our results are consistent with our expectations and the forecast, which we maintain at this stage. We promised to focus on margins this year, and we are achieving our goal."
DETAILED SALES DATA
SALES BY REGION
The regions of the Former Soviet Union and Central & Eastern Europe traditionally generate the greatest share of the Group's sales revenue. In the 1st half of 2019 the share of FSU in the Group's total revenue grew to over 50.74%, from 49.37% in 1H 2018.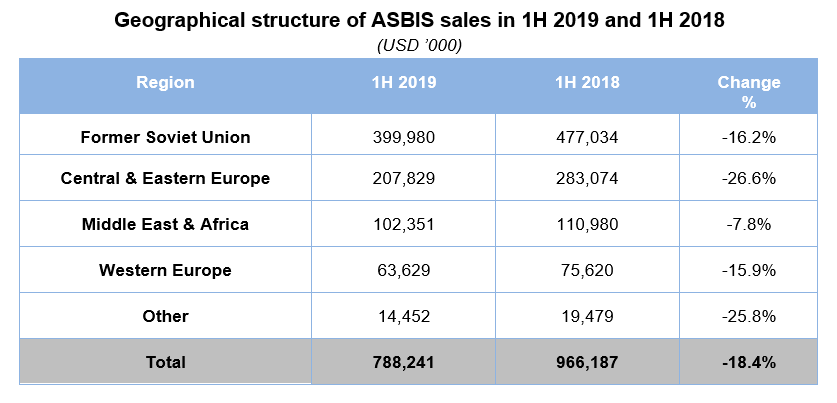 SALES BY COUNTRY
When analyzing the sales results, it should be borne in mind that the decline in sales is the result of saturation of certain markets with smartphones and the resulting slowdown of sales in this category, which generates the Group's highest sales. This slowdown was anticipated by the Group.
It should be noted that Poland was once again found among the top 10 countries in the Group's sales.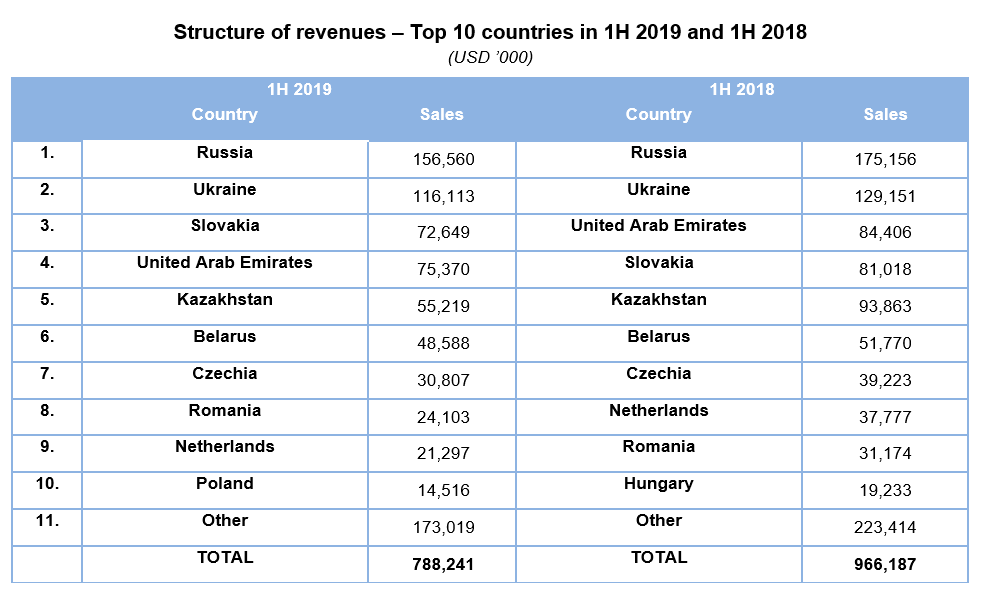 SALES BY PRODUCT LINE
ASBIS remains the distributor of first choice for many global suppliers. In the 1st half of 2019 the Group continued the implementation of its strategy aimed at generating higher margins, and growth of the product line and own brands. The result was a decline in revenue in some key product lines. The greatest sales were generated during the period mainly by smartphones, CPUs, accessories and multimedia, and laptops.
For additional information, please contact:
Iwona Mojsiuszko
8Sense Public Relations
Tel. +48 502 344 992
E-mail iwona.mojsiuszko@8sensepr.pl
About ASBISc Enterprises Plc

ASBISc Enterprises Plc is one of the leading distributors of IT industry products in the emerging markets of Europe, the Middle East and Africa (EMEA): Central and Eastern Europe, the Baltic republics, the former Soviet Union, the Middle East and North Africa, combining a wide range geographical operations with a wide portfolio of products distributed in the "one-stop-shop" model.

ASBISc Enterprises Plc is based in Cyprus and specializes in the distribution of computer hardware and software, mobile solutions, IT components and peripherals, and a wide range of IT products and digital equipment. The Company was established in 1990 and currently selling to 60 countries worldwide.

The Group distributes products of many vendors, and manufactures and sells own brands products: Prestigio (smartphones, tablets, external storage, leather-coated USB accessories, GPS devices, Car-DVRs, Multi-boards etc.), Canyon (MP3 players, networking products and other peripheral devices), Perenio ("IoT") and Atlantech (servers, data storage, data center solutions).

ASBIS has subsidiaries in 26 countries, close to 1,500 employees and about 30,000 customers. In 2018, sales reached almost USD 2.1 billion.

The Company's stock has been listed on the Warsaw Stock Exchange since October 2007 under the ticker symbol "ASB" (ASBIS).
For more information, also visit the Company's website at www.asbis.com or investor.asbis.com