GROUP'S NET PROFIT UP 170% IN 2Q 2020 AND 81% IN 1H 2020
ASBISc Enterprises Plc, a leading distributor of IT products in the emerging markets of Europe, the Middle East and Africa, generated very good financial results in the 1st half of 2020. Sales revenues in the period were USD 880.9 million, compared to USD 788.2 million in the 1st half of 2019, an increase of 12%. Net profit in 1H 2020 grew by 81%, to USD 4.7 million, from USD 2.6 million in 1H 2019.
In the 2nd quarter of 2020 stand-alone, ASBIS generated sales revenues of USD 380.4 million (3% higher than in 2Q 2019) and earned a net profit of USD 2.5 million, an increase of 170% compared to the same period of the prior year.
ASBIS remains the distributor of first choice for many global IT producers, and the Group's strategy is to generate the best possible results for its shareholders. In 1H 2020 the greatest share in the Group's revenue was generated in the countries of the Former Soviet Union (52% share) and Central & Eastern Europe (nearly 27%). The largest country in terms of revenue generated in 1H 2020 was Russia.
For another quarter in a row Poland placed among the top 10 countries generating the biggest revenues in the Group, ranking 8th in the 1st half of 2020, with revenues above USD 31.3 million.
On 11 August 2020 the Group published a financial forecast for 2020, under which sales revenues in 2020 are expected to be between USD 2.0 billion and 2.2 billion and net profit after taxation between USD 18 and 20 million. This represents a significant growth in profitability compared to the respective ones of 2019.
"We are very pleased with our financial results, particularly considering the prevailing market conditions," said Siarhei Kostevitch, CEO and Chairman of ASBISc Enterprises Plc. "Our achievements show that during the time of pandemic, closed markets and a general slowdown of global markets, we were in a position to generate improved results in the 1st half of this year than in the previous year. This is a huge accomplishment, testifying the maturity of our organization and our effective business model, thanks to which, despite operating on a large scale, we could quickly and agilely adapt to market conditions. We expect that 2020 as a whole will be better for us than 2019. We place particular emphasis on growth in profits, which in the 1st half of the year rose 81% and in the 2nd quarter alone 170%, i.e. nearly threefold. We are also pleased to observe the results of Poland, which for several quarters has placed among the countries with the highest revenue in our Group."
Siarhei Kostevitch added: "Yesterday we published our financial forecast for 2020. Already knowing the results for the 1st half of the year, we are confident that barring unforeseen circumstances, we will meet the forecast. This calls for revenues between USD 2.0 and 2.2 billion and net profit after taxation between USD 18.0 and 20.0 million. These are higher results ever generated by the Group in our 30 year history."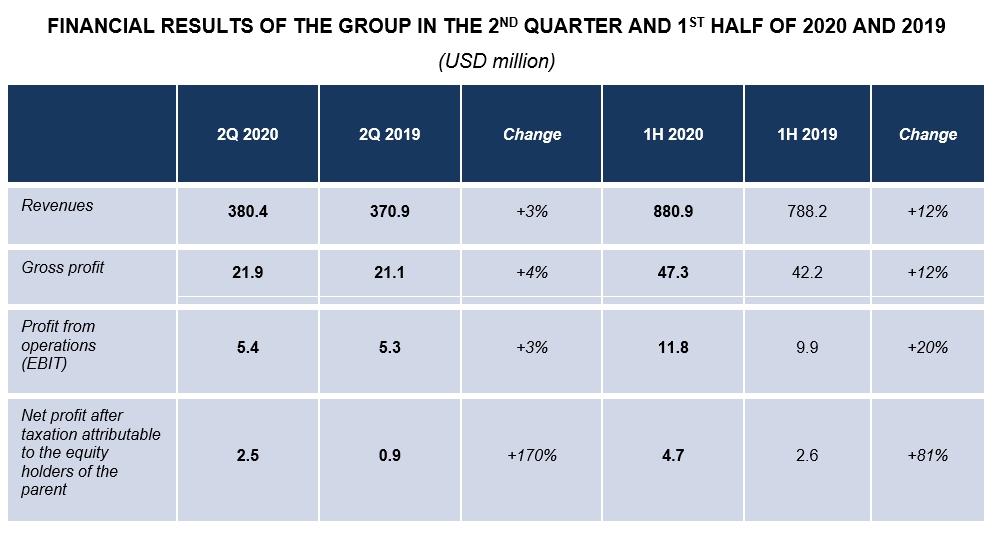 DETAILED SALES DATA
SALES BY REGION
The Former Soviet Union and Central & Eastern Europe regions traditionally have the largest share in the Group's revenues. This has not changed in the 1st half of 2020. Sales in both the FSU and CEE regions grew during this period, by 14.4% and 14.6% respectively. Taking into account the changes indicated above, the share of Former Soviet Union in total revenues grew to 51.93% in 1H 2020, from 50.74% in 1H 2019.

SALES BY COUNTRY
A country-by-country analysis confirms the excellent growth indicators which the Group managed to achieve in all of its main countries of operations. The countries with the highest sales growth in the 1st half of 2020 were:
Poland – growth of nearly 116%
Kazakhstan – growth of 39.3%
The Netherlands – growth of 36.9%
Belarus – growth of 22.2%
Czech Republic – growth of 9.2%
Russia – growth of 6.1%
Ukraine – growth of 6.0%.
Sales in the Middle East & Africa, a region where the results chiefly depend on revenues in the GCC countries (UAE, KSA, BAH, QAT, KW) fell by 1.7% compared to the 1st half of 2019. Sales in Western Europe in 1H 2020 declined by 2.3% compared to 1H 2019.
Poland has also grown in revenue terms, generating an increase in both 2Q 2020 and 1H 2020 (+130.3% and +115.7% respectively).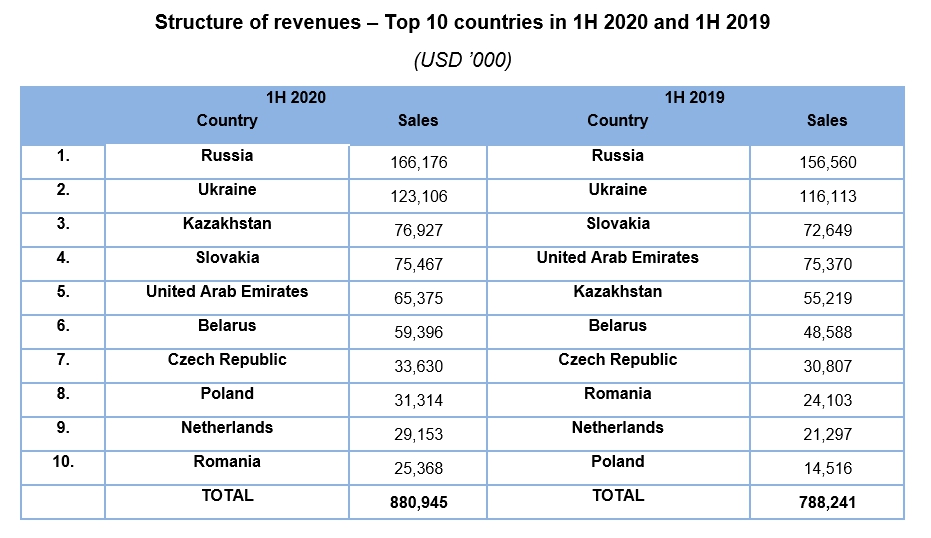 SALES BY PRODUCT LINE
The 1st half of this year demonstrated that ASBIS had no problem significantly growing its revenues despite the ongoing COVID-19 pandemic. Once again ASBIS shows that thanks to its effective strategy, it can quickly adjust to market changes and generate strong results.
In the 1st half of 2020, all the Group's main product lines grew significantly year-on-year, except for smartphones. The greatest growth compared to the 1st half of 2019 was generated by the following product lines:
processors – growth of 41.2%
software – growth of 32.8%
HDDs – growth of 32.5%
SSDs – growth of 32.1%
laptops – growth of 31.5%
servers and server blocks – growth of 23.3%
networking products – growth of 19.8%.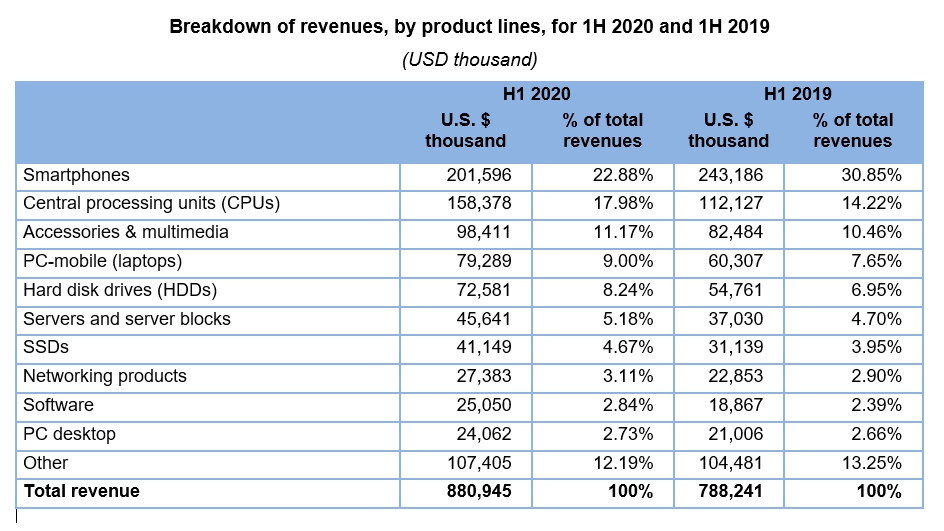 For additional information, please contact:
Iwona Mojsiuszko
8Sense Public Relations
Tel. +48 502 344 992
E-mail iwona.mojsiuszko@8sensepr.pl
About ASBISc Enterprises Plc

ASBISc Enterprises Plc is one of the leading distributors of IT industry products in the emerging markets of Europe, the Middle East and Africa (EMEA): Central and Eastern Europe, the Baltic republics, the former Soviet Union, the Middle East and North Africa, combining a wide range geographical operations with a wide portfolio of products distributed in the "one-stop-shop" model.

ASBISc Enterprises Plc is based in Cyprus and specializes in the distribution of computer hardware and software, mobile solutions, IT components and peripherals, and a wide range of IT products and digital equipment. The Company was established in 1990 and currently selling to 56 countries worldwide.

The Group distributes products of many vendors, and manufactures and sells own brands products: Prestigio (smartphones, tablets, external storage,, GPS devices, car-DVRs, multi-boards etc.), Canyon (power banks, networking products and other peripheral devices), Perenio ("IoT").

ASBIS has subsidiaries in 27 countries, close to 1,800 employees and about 20,000 customers. In 2019, sales exceeded USD 1.9 billion.

The Company's stock has been listed on the Warsaw Stock Exchange since October 2007 under the ticker symbol "ASB" (ASBIS).
For more information, also visit the Company's website at www.asbis.com or investor.asbis.com