ASBISc Enterprises Plc, a leading distributor of IT and CEE products in the emerging markets of Europe, the Middle East and Africa, generated excellent, record-breaking financial results in the Q2 and H1 2021. Revenues in H1 amounted to USD 1.4 billion compared to USD 880.9 million in H1 2020, an increase of 60%. Operating profit (EBIT) increased by 285% and amounted to USD 45.5 million, compared to USD 11.8 million in H1 2020. Net profit has recorded a more than six-fold increase (an increase by 540%) and amounted to USD 30.2 million, compared to USD 4.7 million a year earlier. In H1 2021, the Group also significantly improved its gross profit margin on sales to very high level of 6.68% from 5.37% in H1 2020.
In the second quarter of 2021 standalone, ASBIS generated USD 680.1 million in revenues (an increase of 79% compared to Q2 2020) and USD 15 million in net profit, which means more than six times increase compared to the same period of the previous year.
OTHER IMPORTANT EVENTS IN H1 2021:
The FSU region had the largest share in the Group's revenues (51.8% share), followed by the and Central and Eastern Europe (22.1% share).
Poland has become a permanent member among the 10 countries with the highest revenues, taking the 9th place in H1 2021 with revenues of over USD 35.8 million (an increase of 14% compared to the same period of last year).
ASBIS has published a very high forecast for 2021, which assumes revenues between USD 2.7 billion and USD 2.9 billion and net profit after tax between USD 47 and USD 51 million.
The Company continued its dividend policy with a final dividend of USD 0.20 per share. Thus, the total dividend from the Company's profits for 2020 (including the interim dividend paid on December 17th, 2020) was USD 0.30 per share, which is the highest dividend in the history of the Company.
The Group launched the innovative Perenio Ionic Shield product against known coronaviruses, signed a distribution agreement with Biostar Microtech International Corp. ( ensuring the continuity of supply of motherboards and graphics cards) and obtained the status of a certified NVIDIA HGX Platform Partner, extending its VAD Business offer.

"After the record-breaking Q1 2021, ASBIS continued its rapid growth in Q2 this year" said Siarhei Kostevitch, CEO and Chairman of ASBIS. "The second quarter was another quarter with significantly higher growth than the market itself. ASBIS has once again demonstrated its strengths and ability to achieve exceptionally good results. Thanks to very strong relationships with suppliers, investments in the right product categories and new business projects, we were able to generate record-high revenues and profitability. It was the best second quarter in the history of the Company. I must admit that we remain very confident for the future since we do not see any signs of slowdown until the date of publication of this report. In the first half of this year, we also signed several business projects and expanded our portfolio, incl. the latest product - Perenio Ionic Shield, an ion diffuser, a class I medical product against known coronaviruses".
Siarhei Kostevitch added: "Seeing the results for the first half of 2021, we are convinced that we will be able to meet the financial forecast for 2021. We are looking very closely at the situation on the IT market and, we plan to come back to the markets really soon to publish a new financial forecast for 2021. We will certainly continue our stable dividend policy, unless there are significant changes in the market."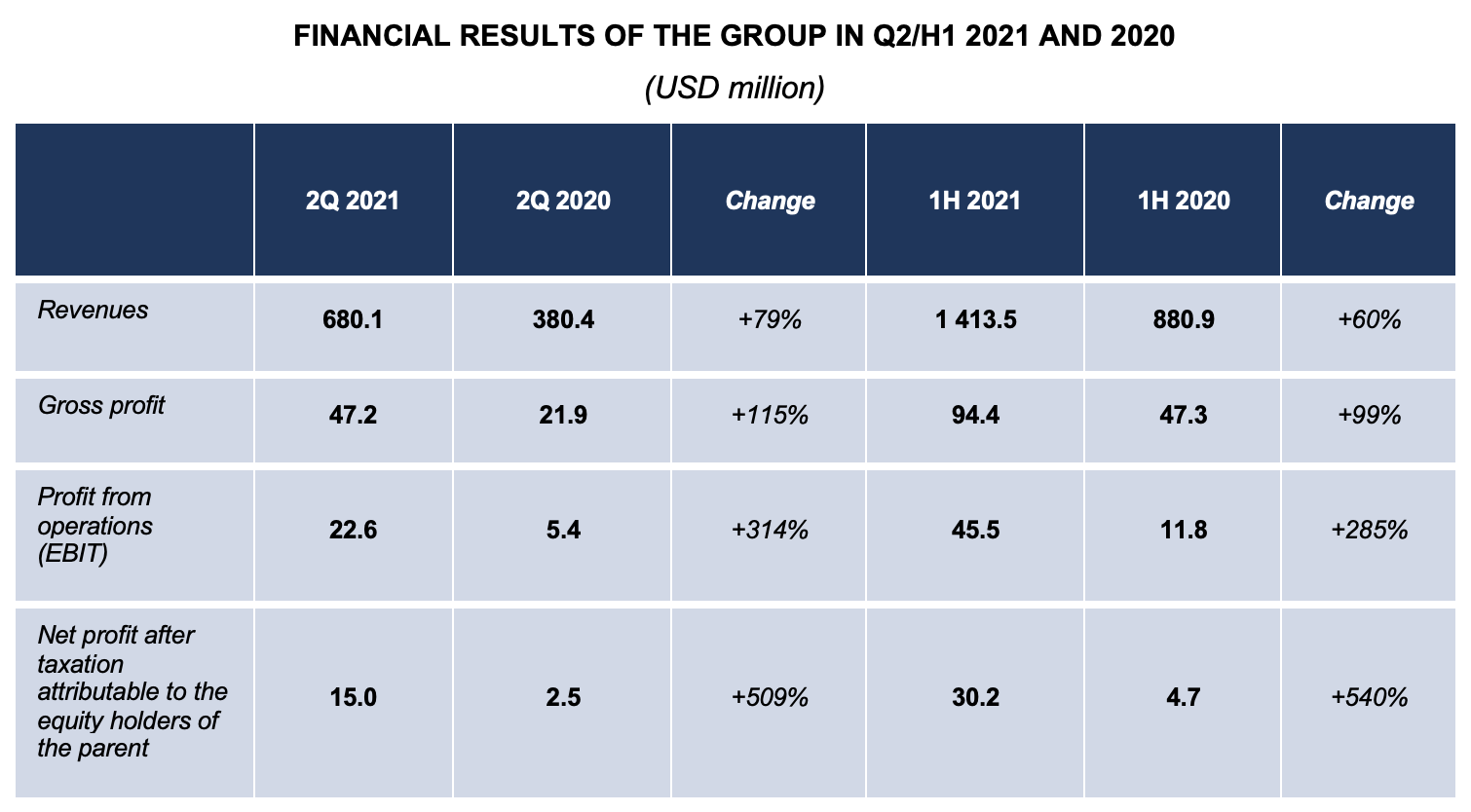 The quarter-on-quarter net sales growth reflects strong growth in all geographic segments of the Company and nearly all major product lines. In H1 2021, smartphone sales, which account for the majority of ASBIS revenues, significantly increased by 104.1% compared to H1 2020. This was the result of continued high demand for the latest Apple iPhone 12 models with better specifications and 5G technology.
DETAILED SALES DATA
SALES BY REGION
The Former Soviet Union and Central & Eastern Europe regions traditionally have the largest share in the Group's revenues. This has not changed in the first half of 2021. Both regions saw significant revenue growth of 62.9% and 33.5% respectively. The share of the FSU countries in the total revenues of ASBIS increased to 52.73% in the first half of 2021 from 51.93% in the first half of 2020.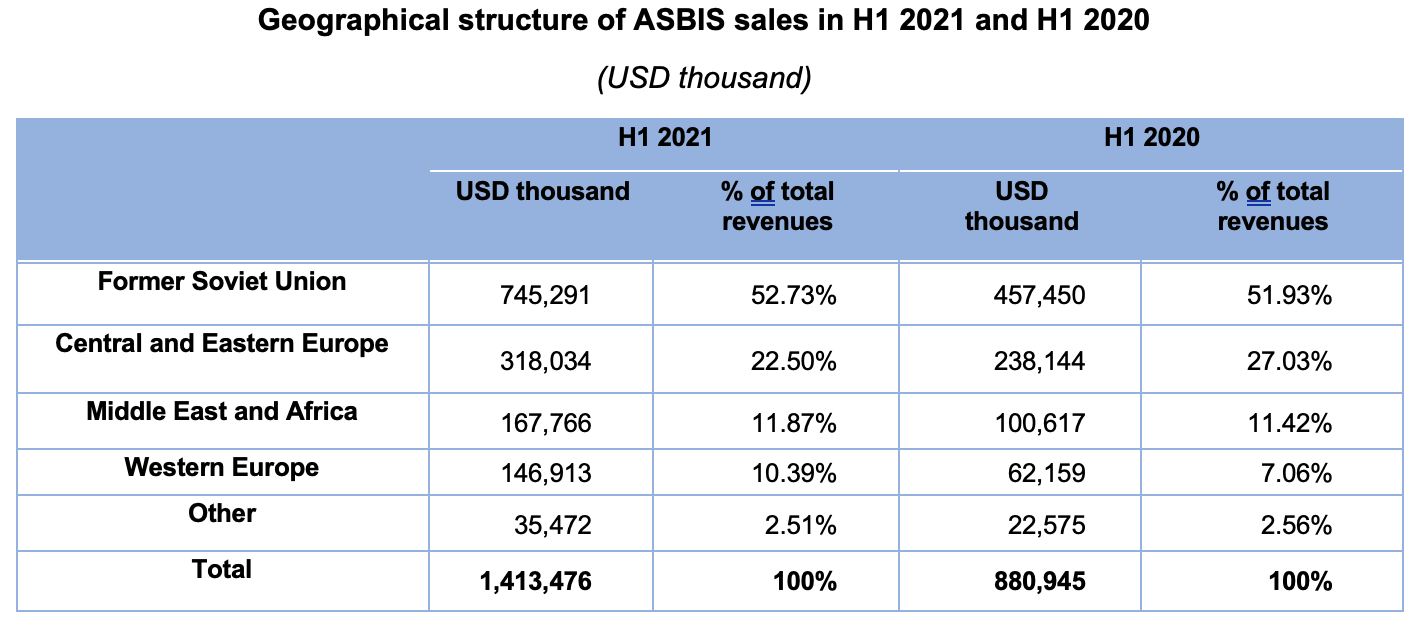 SALES BY COUNTRY
Country-by-country analysis confirms the excellent growth rates the Group has been able to achieve in all major countries of operation. The very high revenue growth in the FSU region is due to a strong improvement in Russia, mainly driven by Apple product sales and VAD business projects.
Countries with the highest sales growth in the first half of 2021 were:
Kazakhstan - increase by 111.2%
United Arab Emirates - increase by 63.5%
Ukraine - increase by 55.2%
Czech Republic - increase by 50.8%.
Russia - increase by 43.7%
Belarus - increase by 33.1%.
Poland was among the 10 TOP countries with the highest sales in the Group, taking the 9th place, generating over 14% of the total increase in sales compared to the first half of 2020.
Western Europe, despite the fact that it is not the main area of ASBIS interest, in the first half of 2021 doubled its revenues compared to the corresponding period of 2020.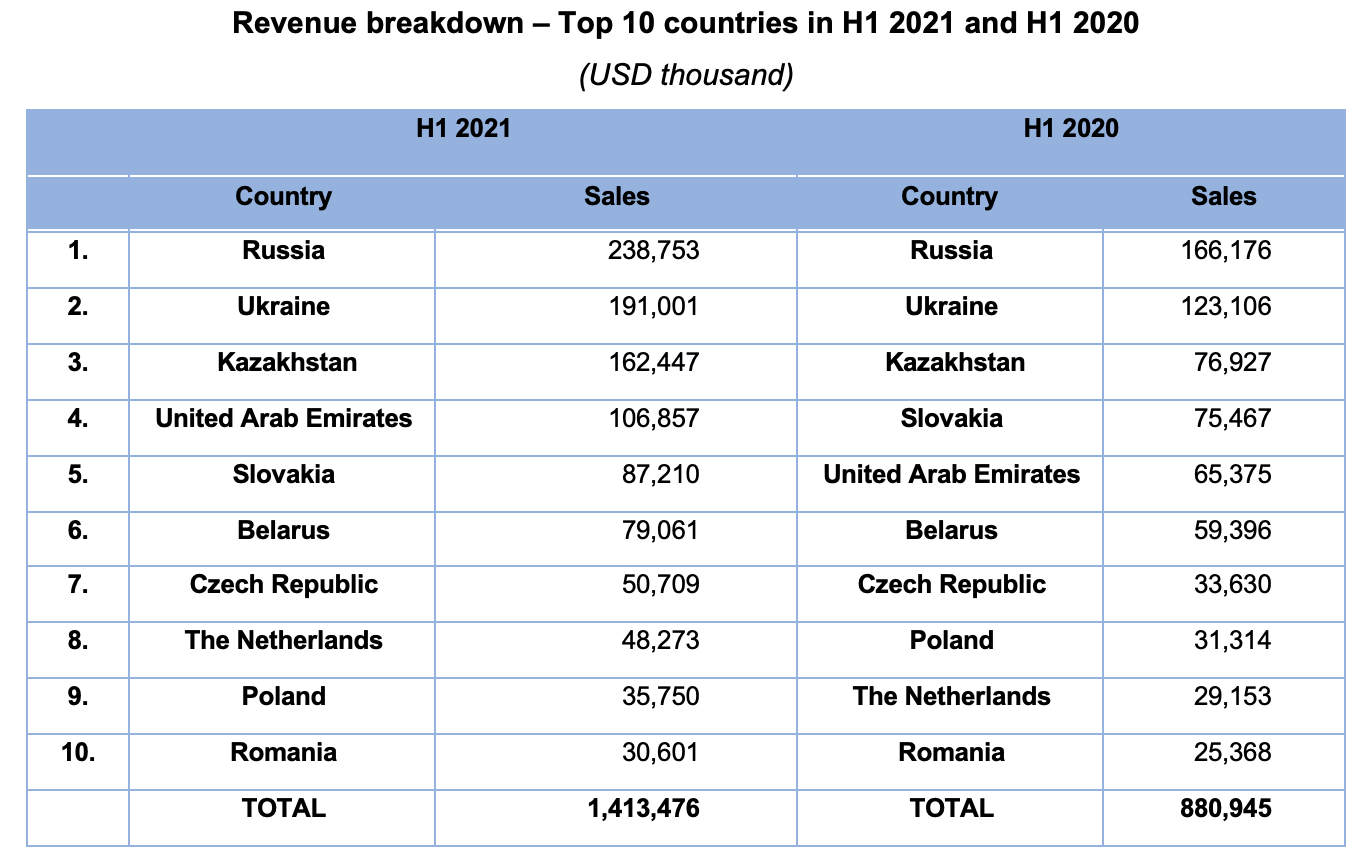 For additional information, please contact:
Iwona Mojsiuszko
8Sense Public Relations
Tel. +48 502 344 992
E-mail iwona.mojsiuszko@8sensepr.pl
About ASBISc Enterprises Plc
ASBIS Group is a leading Value Add Distributor, developer and provider of IT, IoT products, solutions and services to the markets of Europe, the Middle East and Africa (EMEA) with local operations in Central and Eastern Europe, the Baltic republics, the former Soviet Union, the Middle East and North Africa.
The business of ASBIS is based on three pillars:
1. Distribution of hardware and software for Client Computing and Data Centers, consumer electronics thru:
a. Retail chains and e-tailers
b. Resellers to small and medium business
c. Large enterprises.
2. Full stack in creation of world class products. From scientific research and development to design and engineering, firmware and software, production and marketing of IT and IoT products and solutions via own brands:
a. Prestigio (smart devices and accessories, innovative solutions for business and education, etc.)
b. Canyon (smart watches, power banks, accessories for computers and mobile devices)
c. Perenio (IoT platform, IoT routers, applications and peripherals for smart office/ home, smart health).
3. Complex solutions sales projects to large enterprises via extensive networks of System Integrators and Value Add Resellers.

ASBIS was founded in 1990 in Belarus, since 1995 operates from Cyprus. Company has two master distribution centers located in the Czech Republic and in the United Arab Emirates, subsidiaries in 27 countries, more than 2,000 employees and about, 20 000 active customers in 56 countries worldwide. In 2020, the Group delivered sales of nearly USD 2.4 billion.
The Company's stock has been listed on the Warsaw Stock Exchange since October 2007 under the ticker symbol "ASB" (ASBIS).
For more news and information visit: www.asbis.com